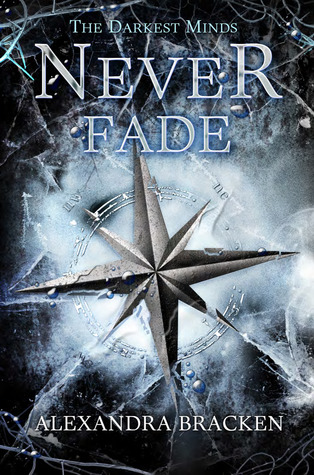 Title: "Never Fade"
Series: The Darkest Minds, #2
Author: Alexandra Bracken

Website ~ Blog ~ Twitter ~ Instagram ~ Tumblr ~ Facebook ~ Pinterest
Published: October 15, 2013
Publisher: Disney Hyperion
Genres: Young Adult, Science Fiction, Romance
Pages: 512
Format: Hardcover
Source: MeL Cat

Goodreads ~ Amazon ~ Barnes & Noble
Ruby never asked for the abilities that almost cost her her life. Now she must call upon them on a daily basis, leading dangerous missions to bring down a corrupt government and breaking into the minds of her enemies. Other kids in the Children's League call Ruby "Leader", but she knows what she really is: a monster.

When Ruby is entrusted with an explosive secret, she must embark on her most dangerous mission yet: leaving the Children's League behind. Crucial information about the disease that killed most of America's children—and turned Ruby and the others who lived into feared and hated outcasts—has survived every attempt to destroy it. But the truth is only saved in one place: a flashdrive in the hands of Liam Stewart, the boy Ruby once believed was her future—and who now wouldn't recognize her.

As Ruby sets out across a desperate, lawless country to find Liam—and answers about the catastrophe that has ripped both her life and America apart—she is torn between old friends and the promise she made to serve the League. Ruby will do anything to protect the people she loves. But what if winning the war means losing herself?
After the incredibly heartbreaking ending to The Darkest Minds, I had to read the sequel as soon as possible. Fortunately I had it waiting for me, so I started it as soon as I possibly could. This book was even more of an emotional roller coaster than its predecessor. I didn't think it could be possible, but it was also even better.
*If you haven't read The Darkest Minds, don't continue reading*
Following the traumatic events of the first book, where Ruby wipes Liam's memory so he forgets her and she joins the Children's League, she's now a leader for missions with other teens. Her life has changed drastically in the last few months. But once she has to save someone familiar, her past comes back to follow her.
I didn't think that this series could get anymore heartbreaking, but it definitely did in this sequel. The book was one giant emotional roller coaster. Of course Ruby, and we, is reeling from the events of The Darkest Minds, and she's still feeling that pain. However, she tries to focus on what she's doing now, even if she has conflicting feelings about what she's doing. However, when she meets back up with people she never thought she'd see again, she needs to face the consequences for her actions, especially with how things ended with Liam. I felt like my heart was breaking the entire time.
I loved the new characters that were introduced. Two of the most important ones were Jude and Vida. Jude is a younger boy who is so sweet. Vida is around Ruby's age and isn't afraid to say what she thinks. She swears constantly and I love it. Her and Ruby butt heads, but they work together as a great pair.
Compared to the first book, there isn't a whole lot of romance in this one. There is some towards the end, but it's not the focus. Ruby and everyone else have a lot more important things to worry about. I thought that it was enough for the story. Of course there are a few little moments, but they're not very often and very small. However, it's worth the wait in the end!
Overall, I thought that this was a fantastic sequel to an equally fantastic story. I was initially worried because second books can sometimes be a let down, but this book kept me at the edge of my seat for the entire ride. Alexandra Bracken did not let me down!