"Obsidian (Lux, #1)" by Jennifer L. Armentrout
Website ~ Blog ~ Twitter ~ Facebook
Published: November 23, 2011
Publisher: Entangled Teen
Genres: Young Adult, Romance, Paranormal
Pages: 361
Format: Paperback
Source: MeL Cat
Read March 23 to 29, 2013
GoodReads ~ Amazon ~ Barnes & Noble
Starting over sucks.
When we moved to West Virginia right before my senior year, I'd pretty much resigned myself to thick accents, dodgy internet access, and a whole lot of boring... until I spotted my hot neighbor, with his looming height and eerie green eyes. Things were looking up.
And then he opened his mouth.
Daemon is infuriating. Arrogant. Stab-worthy. We do not get along. At all. But when a stranger attacks me and Daemon literally freezes time with a wave of his hand, well, something... unexpected happens.
The hot alien living next door marks me.
You heard me. Alien. Turns out Daemon and his sister have a galaxy of enemies wanting to steal their abilities, and Daemon's touch has me lit up like the Vegas Strip. The only way I'm getting out of this alive is by sticking close to Daemon until my alien mojo fades.
If I don't kill him first, that is.
I should just let you know that this will have a LOT of fangirling.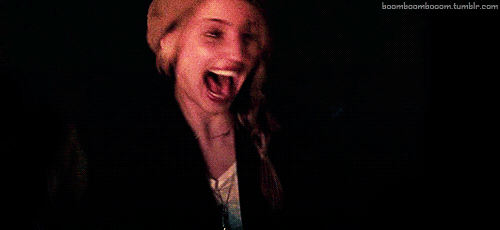 Who knew aliens could be so HOT?!?!
I was so happy when I found this book. I was excited to read a book that had characters being sassy and having personalities. I loved Katy! Even though Daemon would be all douche-y and such, Katy would still not listen to him. She didn't take his crap!!
I just wanna say that I've heard a lot of people compare this to Twilight, even though they have similarities, I don't think they're that similar. I feel that Katy had more of a personality that Bella and her life didn't revolve her boyfriend/love interest. Daemon also tried pushing Katy away from him, but he was douchier than Edward. But at least he wasn't a pedophile.
I should also should mention that I loved the make-out scene. It has SOOOOOOO hot!!! Then it ended right before it got any hotter! UGH!! So sad.
Katy
I loved her. I thought she was a great female lead because she didn't spend all of her time fawning over some guy. And that made me really happy. She actually had a life. She also loved to read and had a book blog!!
Daemon
A little too douche-y for my tastes, but I thought he was good. I just wish he didn't try pushing Katy away so much. He should have just accepted his feelings for her.
Overall, I'm not sure what else to say. I loved it!