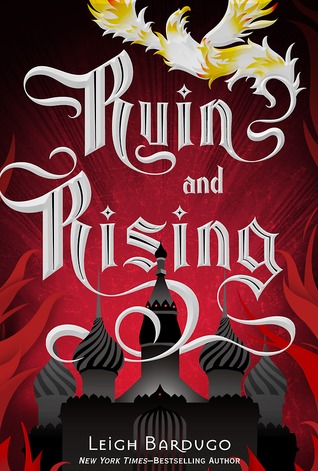 Title: "Ruin and Rising"
Series: The Grisha, #3
Author: Leigh Bardugo
Website ~ Twitter ~ Facebook ~ Tumblr ~ Instagram
Published: June 17, 2014
Publisher: Henry Hold and Co.
Genres: Young Adult, Fantasy, Adventure
Pages: 422
Format: Hardcover
Source: Library
Goodreads ~ Amazon ~ Barnes & Noble
The capital has fallen.

The Darkling rules Ravka from his shadow throne.

Now the nation's fate rests with a broken Sun Summoner, a disgraced tracker, and the shattered remnants of a once-great magical army.

Deep in an ancient network of tunnels and caverns, a weakened Alina must submit to the dubious protection of the Apparat and the zealots who worship her as a Saint. Yet her plans lie elsewhere, with the hunt for the elusive firebird and the hope that an outlaw prince still survives.

Alina will have to forge new alliances and put aside old rivalries as she and Mal race to find the last of Morozova's amplifiers. But as she begins to unravel the Darkling's secrets, she reveals a past that will forever alter her understanding of the bond they share and the power she wields. The firebird is the one thing that stands between Ravka and destruction—and claiming it could cost Alina the very future she's fighting for.
I really wanted to give you 5 stars. I REALLY did. But I just couldn't. Usually I can get over it if I don't like the ending, but I just couldn't this time. I thought that the book was amazing, but the ending was just a huge let down. I expected more from it, and in a way, for me, it just seemed to undo a lot of the great things that happened in this series.
After Ravka is attacked, Alina, Mal, and her supporters go into hiding. However, with going into hiding, Alina must do what the Apparat tells her to, and that means pretending to be the saint he always wanted her to be. But Alina is determined to get the firebird, the third amplifier, even if it means risking someone's life. With being trapped underground, Alina has no longer has her powers, making her weak. Yet she's determined to escape the Apparat and get out of hiding. She's desperate to get the third amplifier, not only to defeat the Darkling, but to also satisfy her desire for power. Now that she's had a taste for the power that has been hidden inside of her, she doesn't want to lose it. She's determined to reach her full potential, and is willing to do anything to get it.
Alina's desire for the third amplifier puts a strain on her and Mal's relationship. He still can't accept the fact that she's Grisha and wields such incredible power. I feel that he's not used to this Alina, the one that can take care of himself. He's always been the stronger of the two, and now he can't get over the fact that she's more powerful. It's terrible. He hates her for who she truly is, and that is a powerful Grisha. I kept wishing that maybe he'd stop acting this way, especially since she had saved his life multiple times, but he keeps encouraging her to stop searching for the firebird and wanting her to go back to being normal. Mal, get over yourself. Whining and being mean isn't cute. He's just terrible all around.
However, I continued to like Alina. I loved her drive, even if it was to gain more powerful. Hey, nobody's perfect. And her desire for the firebird was her weakness. I think that helped make her more likable. She wasn't perfect. She had flaws. But her journey from becoming a scared, weak girl to a strong, powerful young woman was what made me like her. The only thing I didn't really like though was her need to make others, especially Mal, happy. She should have just listened to herself, as no one else knew what she was going through or what she needed to do.
We learn more about the Darkling's past and about who he is, or was. It's actually pretty sad. His and Baghra's stories are both really sad. They have a very strange mother-son relationship. They hate each other to death, yet it seems that the Darkling loves her deep down. Or maybe I was imagining things.
The whole story about the third amplifier, the firebird, is strange. I'll just say that I did NOT expect what happened. It was a total surprise, and one that I did not like. But looking back, I should have seen it coming, even though it was a total surprise to everyone in the book. And, as stated before, I didn't like the ending, and the reason I didn't like is was because of it's connection to the third amplifier. I felt that it was a cop out. I just feel that it made the ending less powerful and made it pretty weak. Definitely not the way I would have liked it to have ended.
Overall, this book was a good conclusion to this series. I could have given this book 5 stars, if the ending wasn't such a let down. However, I didn't give this book 3 stars since this book kept me turning the pages, there was great character development and banter between them, and the world-building was beautiful. I'm so sad to see the end of this series, but cannot wait for the continuation with different characters in a different setting with Six of Crows!