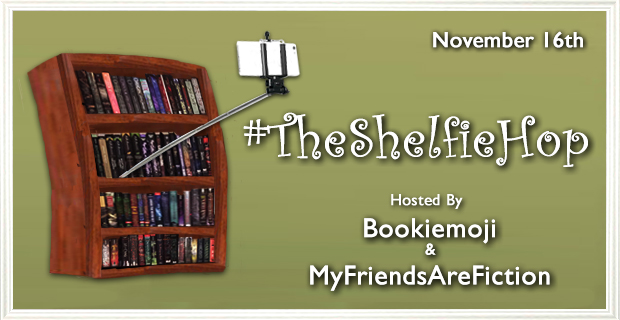 I'm so excited to be participating in this Shelfie Hop! Sadly, my shelves are pretty pathetic. Not because I don't have a lot of books, but because my shelves are tiny. I'm planning on getting a new bookcase soon, and I have one that I really want! It has little cubes that are different sizes instead of straight shelves. I love it.
Anyway, here are the shelves!
(Because of the placement of my furniture, I can't get a full picture. I also couldn't find my camera, so I had to use my iPod, resulting in a low quality picture.)
Very Top (Not visible)-Books I've borrowed from my dad and grandma, Russian and Norwegian dictionaries, library book I had to buy after causing water damage to, Piggy Bank
1st Row-Sarah J. Maas, Susan Dennard, Leigh Bardugo, Jodi Meadows, Air Awakens (Elise Kova)
2nd Row-Jennifer L. Armentrout, Marissa Meyer
3rd Row-Tahereh Mafi, Megan Shepherd, A.C. Gaughen, Unearthly (UK edition, Cynthia Hand), Marie Rutkoski, Brodi Ashton, A Curious Tale of the In-Between, Vengeance Road (Erin Bowman), Walk on Earth a Stranger (Rae Carson)
4th Row-Deception (C.J. Redwine), Illuminae (Jay Kristoff and Amie Kaufman), Slasher Girls and Monster Boys, These Broken Stars (Amie Kaufman and Meagan Spooner), random books
Keep in mind that this is just a fraction of all the books I own. The rest are either sitting on top of my dresser or are in storage bins. But I'm planning on getting rid of some of them. I'm hoping that by getting a larger bookcase, I can display more books. I've also read most of these books, but I haven't read about a quarter of those in the picture, and they're mainly on the bottom row.
Make sure to visit the other blogs in the blog hop!