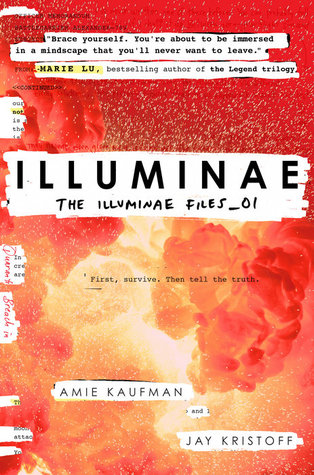 Title: "Illuminae"
Series: The Illuminae Files, #1
Author: Amie Kaufman and Jay Kristoff
Website ~ Twitter
Website ~ Twitter
Published: October 20, 2015
Publisher: Knopf Books for Young Readers
Genres: Young Adult, Science Fiction, Adventure
Pages: 599
Format: Hardcover
Source: Bought
Goodreads ~ Amazon ~ Barnes & Noble
This morning, Kady thought breaking up with Ezra was the hardest thing she'd have to do.





This afternoon, her planet was invaded.





The year is 2575, and two rival megacorporations are at war over a planet that's little more than an ice-covered speck at the edge of the universe. Too bad nobody thought to warn the people living on it. With enemy fire raining down on them, Kady and Ezra—who are barely even talking to each other—are forced to fight their way onto an evacuating fleet, with an enemy warship in hot pursuit.



But their problems are just getting started. A deadly plague has broken out and is mutating, with terrifying results; the fleet's AI, which should be protecting them, may actually be their enemy; and nobody in charge will say what's really going on. As Kady hacks into a tangled web of data to find the truth, it's clear only one person can help her bring it all to light: the ex-boyfriend she swore she'd never speak to again.

Told through a fascinating dossier of hacked documents—including emails, schematics, military files, IMs, medical reports, interviews, and more—Illuminae is the first book in a heart-stopping, high-octane trilogy about lives interrupted, the price of truth, and the courage of everyday heroes.
Last year, after seeing so many glowing reviews, I decided that I should buy Illuminae due to the hype. Unsurprisingly, it ended up sitting on my bookshelf for almost a year while I read other books. When I finally got around to reading it, I was happy I wanted so long, as I don't have to wait as long for the sequel. However, the format was a big surprise for me, and I had to quickly adapt to this very unique style.
After breaking up with her boyfriend that morning, Kady didn't think her day could get much worse. It did. Kady's tiny planet gets attacked by a rival corporation, killings hundreds and changing her life forever. However, that's not the end of the chaos. Kady must team up with Ezra, her ex, and try to find out what those in charge are trying to cover up, all while trying to stay alive and not catch a deadly virus that has been mutating for months. Yeah, just the normal stuff every teenage girl has to deal with.
Even though this book is not written in the traditional sense, meaning you don't get to learn about the characters through dialogue, their thoughts, and other characters' descriptions, I liked Kady right away. You could tell just how tough, determined, humorous, and vulnerable she was through her interviews with officials and chats with Ezra. You also get to learn quite a bit about Ezra is well. You see just how caring and, at times, awkward he is. We also see how vulnerable he is as well, especially when it comes to his family. I didn't expect to connect with these characters as well as I did.
I haven't read too much science fiction when compared to the number of paranormal and fantasy books I've read, but I always love what authors create when it comes to science fiction. Space is vast and still very much unexplored, so it's always great to see what authors think of. And I think that's why I really enjoyed Illuminae, other than the characters. They were incredibly detailed when it came to describing the space crafts, they even included floor plans and maps of them. I also liked how they didn't just go with a simple Moon or Mars colony. They went with a totally different solar system with different planets, with the main characters living on a tiny ice-covered planet. I'm really interested in seeing what they do with the sequel and what planets and space stations we may encounter.
Overall, this was a great science fiction read written in a very different format. While it may be hard to grasp at first, it gives unique perspectives to this story. Even though what the characters are experiencing is very intense, the book is full of humor and snark. Now I need to learn how to be a hacker just like Kady while I wait for the sequel.