What's on My Radar highlights the releases for that month that I'm excited for and gives the opportunity to discuss what everyone is looking forward to.
September 6
The long path to the throne has only just begun for Aelin Galathynius. Loyalties have been broken and bought, friends have been lost and gained, and those who possess magic find themselves at odds with those don't.





As the kingdoms of Erilea fracture around her, enemies must become allies if Aelin is to keep those she loves from falling to the dark forces poised to claim her world. With war looming on all horizons, the only chance for salvation lies in a desperate quest that may mark the end of everything Aelin holds dear.





Aelin's journey from assassin to queen has entranced millions across the globe, and this fifth installment will leave fans breathless. Will Aelin succeed in keeping her world from splintering, or will it all come crashing down?
Enter the world of Throne of Glass

Experience the vivid imagery of Sarah J. Maas's expansive world in her breathtaking New York Times bestselling Throne of Glass saga. Celaena on the rooftops of Rifthold, Chaol in the gardens of the glass castle, Manon riding her wyvern through the Crossing, and many other favorite moments, characters, and objects from the vibrantly detailed realm of Throne of Glass come to life. With stunning original black-and-white drawings, The Throne of Glass Coloring Book is a must-have companion for any reader looking to be swept up in the adventure of a lifetime.
Aspiring reporter Piper Baird decides to write a scathing exposé on the overprivileged students at an elite Washington, DC, school, only for her life to change when she begins to fall for the story's main subject, in this new realistic contemporary romance from Brodi Ashton, the author of the Everneath trilogy.



Raucous parties, privileged attitudes, underage drinking, and diplomatic immunity...it's all part of student life on Embassy Row.



Piper Baird has always dreamed of becoming a journalist. So when she scores a scholarship to exclusive Chiswick Academy in Washington, DC, she knows it's her big opportunity. Chiswick offers the country's most competitive prize for teen journalists—the Bennington scholarship—and winning will ensure her acceptance to one of the best schools in the country.





Piper isn't at Chiswick for two days before she witnesses the intense competition in the journalism program—and the extreme privilege of the young and wealthy elite who attend her school. And Piper knows access to these untouchable students just might give her the edge she'll need to blow the lid off life at the school in a scathing and unforgettable exposé worthy of the Bennington.





The key to the whole story lies with Rafael Amador, the son of the Spanish ambassador—and the boy at the center of the most explosive secrets and scandals on Embassy Row. Rafael is big trouble—and when he drops into her bedroom window one night, asking for help, it's Piper's chance to get the full scoop. But as they spend time together, Piper discovers that despite his dark streak, Rafael is smart, kind, funny, and gorgeous—and she might have real feelings for him. How can she break the story of a lifetime if it could destroy the boy she just might love?
September 13
Lionel is a wild boy, who doesn't much like to be around other people. He'd rather be a purring cat or a wolf stalking the woods.





Marybeth is a nice girl. She doesn't need to be told to comb her hair or brush her teeth, and she's kind to everyone at the orphanage . . . Lionel most of all.





Different though they are, Lionel and Marybeth are best friends in a world that has forgotten about them. So when a mysterious blue spirit possesses Marybeth—and starts to take control—they know they must stop it before the real Marybeth fades away forever.
September 20
An idealistic young student and a banished warrior become allies in a battle to save their realm in this first book of a mesmerizing epic fantasy series, filled with political intrigue, violent magic, malevolent spirits, and thrilling adventure





Everything has a spirit: the willow tree with leaves that kiss the pond, the stream that feeds the river, the wind that exhales fresh snow . . .





But the spirits that reside within this land want to rid it of all humans. One woman stands between these malevolent spirits and the end of humankind: the queen. She alone has the magical power to prevent the spirits from destroying every man, woman, and child. But queens are still just human, and no matter how strong or good, the threat of danger always looms.





With the position so precarious, young women are chosen to train as heirs. Daleina, a seemingly quiet academy student, is under no illusions as to her claim to the throne, but simply wants to right the wrongs that have befallen the land. Ven, a disgraced champion, has spent his exile secretly fighting against the growing number of spirit attacks. Joining forces, these daring partners embark on a treacherous quest to find the source of the spirits' restlessness—a journey that will test their courage and trust, and force them to stand against both enemies and friends to save their land . . . before it's bathed in blood.
I am Henrietta Howel.
The first female sorcerer in hundreds of years.
The prophesied one.
Or am I?

Henrietta Howel can burst into flames.


Forced to reveal her power to save a friend, she's shocked when instead of being executed, she's invited to train as one of Her Majesty's royal sorcerers.





Thrust into the glamour of Victorian London, Henrietta is declared the chosen one, the girl who will defeat the Ancients, bloodthirsty demons terrorizing humanity. She also meets her fellow sorcerer trainees, handsome young men eager to test her power and her heart. One will challenge her. One will fight for her. One will betray her.



But Henrietta Howel is not the chosen one.


As she plays a dangerous game of deception, she discovers that the sorcerers have their own secrets to protect. With battle looming, what does it mean to not be the one? And how much will she risk to save the city—and the one she loves?





Exhilarating and gripping, Jessica Cluess's spellbinding fantasy introduces a powerful, unforgettably heroine, and a world filled with magic, romance, and betrayal. Hand to fans of Libba Bray, Sarah J. Maas, and Cassandra Clare.
Fans of acclaimed author Kendare Blake's Anna Dressed in Blood will devour her latest novel, a dark and inventive fantasy about three sisters who must fight to the death to become queen.



In every generation on the island of Fennbirn, a set of triplets is born: three queens, all equal heirs to the crown and each possessor of a coveted magic. Mirabella is a fierce elemental, able to spark hungry flames or vicious storms at the snap of her fingers. Katharine is a poisoner, one who can ingest the deadliest poisons without so much as a stomachache. Arsinoe, a naturalist, is said to have the ability to bloom the reddest rose and control the fiercest of lions.





But becoming the Queen Crowned isn't solely a matter of royal birth. Each sister has to fight for it. And it's not just a game of win or lose...it's life or death. The night the sisters turn sixteen, the battle begins.





The last queen standing gets the crown.
September 27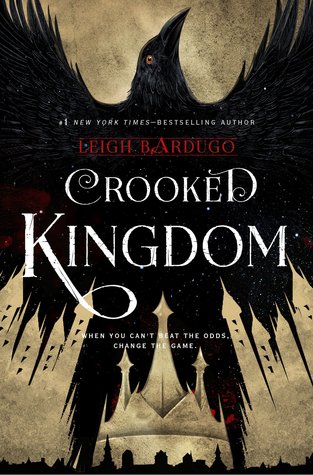 Kaz Brekker and his crew have just pulled off a heist so daring even they didn't think they'd survive. But instead of divvying up a fat reward, they're right back to fighting for their lives. Double-crossed and left crippled by the kidnapping of a valuable team member, the crew is low on resources, allies, and hope. As powerful forces from around the world descend on Ketterdam to root out the secrets of the dangerous drug known as jurda parem, old rivals and new enemies emerge to challenge Kaz's cunning and test the team's fragile loyalties. A war will be waged on the city's dark and twisting streets―a battle for revenge and redemption that will decide the fate of magic in the Grisha world.
Some of these books have been released already, but I'm currently reading Empire of Storms and am so excited/nervous. Of course I have Crooked Kingdom preordered, and I plan to get A Shadow Bright and Burning. Have you read any of these books so far, and what did you think of them?