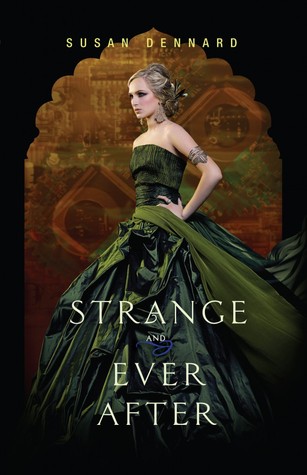 "Strange and Ever After (Something Strange and Deadly, #3)" by Susan Dennard
Website ~ Blog ~ Twitter ~ Facebook ~ Pinterest ~ Tumblr ~ YouTube
Published: July 22, 2014
Publisher: HarperTeen
Genres: Young Adult, Fantasy, Romance
Pages: 387
Format: Hardcover
Source: MeL Cat
Read December 28, 2014 to January 2, 2015
In the conclusion to the trilogy that Publishers Weekly called "a roaring—and addictive—gothic world," Eleanor Fitt must control her growing power, face her feelings for Daniel, and confront the evil necromancer Marcus...all before it's too late.
He took her brother, he took her mother, and now, Marcus has taken her good friend Jie. With more determination than ever to bring this sinister man to justice, Eleanor heads to the hot desert streets of nineteenth-century Egypt in hopes of ending this nightmare. But in addition to her increasingly tense relationships with Daniel, Joseph, and her demon, Oliver, Eleanor must also deal with her former friend, Allison, who has curiously entangled herself in Eleanor's mission.
With the rising dead chomping at her every move and Jie's life hanging in the balance, Eleanor is convinced that her black magic will see her through to the bitter end. But there will be a price. Though she and the Spirit Hunters have weathered every battle thus far, there will be consequences to suffer this time—the effects of which will be irreversible. And when it's over, only some will be able to live a strange and ever after.
Susan Dennard will leave readers breathless and forever changed in the concluding pages of this riveting ride.
First thing that I have to say, after I finished this book, I cried in the shower. Probably a bit TMI, but it's true. This is also the first time that I cried after reading a book.
Even though I haven't reviewed the second book yet, I really need to get my feelings out for this book now. Here come the emotions...
The entire book was a roller coaster ride of feels. One moment I was happy, the next I was sad.
I don't want to give too much away, so I should probably just use gifs. All I will say is that it is heartbreaking.
This is what I have to say about Eleanor and Daniel:
I just ship them so hard.
I have this to say about Allison:
There's a lot of other great stuff that happens in between the beginning and end, but I just have to get straight to the end. And this is how I felt about it:
Yeah, that's a lot, but that is how I felt. I will say that the ending is very unfair.
Eleanor:
Still just as badass as ever. Probably my favorite female protagonist.
Daniel:
Also still amazing. Excuse me while I sob...
Jie:
I want to hug her, but she would probably kick my ass if I tried.
Joseph:
I currently have some resentment towards him.
Oliver:
I started to like him some more in this book. I was sad but happy with his story line.
Overall, this book was amazing! Even though I didn't like the ending, I can't help but give it five stars. I have high hopes for Ms. Dennard's next series!