3 out of 5 stars
Read October 6 to 27, 2013
Pages: 302
Published: March 27, 2007
Publisher: Disney-Hyperion
This book took me forever to finish it. I started and finished a couple other books while reading this one. I found a few similarities between this book and City of Bones by Cassandra Clare. And that's not good. Both Schuyler and Clary went to a club in New York when they were 15 with their best friend who is a boy that is secretly in love with them. Both witness a strange paranormal occurance and the boy who is involved in it will become a love interest. During the series Clary's mom falls into a coma. Schuyler's mom had been in a coma since Schuyler was a few months old. Wouldn't the doctors let her die after 15 years? I was so confused by it. But I think I was confused by most of the things in the book.
Me the entire time. Not lying. I had no clue what was happening. I was worried that I missed something. But no, I didn't.
I really need to talk about the nastiness of this book. I'm pretty sure Mimi was in love with Jack. Like, she wanted him to see her lacy bra underneath her sweater. She was also in a relationship with like, a 23 year old Italian guy. She's 16. Umm...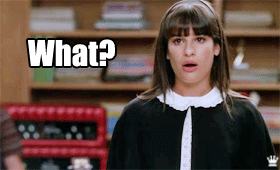 She was quite possibly one of the most annoying and rude characters that has ever been in a book that I've read. I wanted to reach into the pages and squeeze her neck so hard that her head would pop off. She also hated not being the center of attention and didn't like seeing Bliss, her best friend, happy.
Schuyler
She's pretty much the equivilant of Clary, but maybe not so pathetic. She dresses like a hobo even though her family is rich. I know she doesn't have to dress fancy but she should at least wash her hair. Then she suddenly becomes a model and she doesn't need consent from her grandmother to start working. They say she's the new Kate Moss, what a great role model.
Oliver
He's Simon. Secretly in love with his best friend, but she doesn't know about his feelings.
Jack
He was so hot and cold, just like Jace. One minute he's making out with Schuyler and the next he's ignoring her. I was so confused. He thought that he had been looking for her in every single one of his lives, but he was actually chasing after her mom. Awkward.
Mimi
Read what I said above. I don't want to think about her anymore.
Bliss
I don't know why she felt the need to continue being friends with Mimi. Bliss was nice and sweet and could do so much better than Mimi. I hope she sees the light and becomes her own person.
Overall, this book annoyed me so much. But I feel like I will continue the series. Maybe it will redeem itself. But who knows?