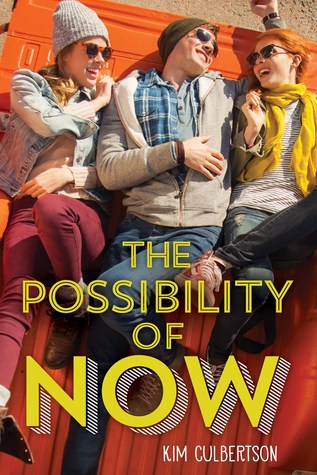 Title: "The Possibility of Now"
Series: Standalone
Author: Kim Culbertson
Website ~ Twitter
Published: January 26, 2016
Publisher: Point
Genre: Young Adult, Contemporary
Pages: 305
Format: Physical ARC
Source: I received an ARC from Nori (who is in charge of SST)
Goodreads ~ Amazon ~ Barnes & Noble
Mara James has always been a perfectionist with a plan. But despite years of overachieving at her elite school, Mara didn't plan on having a total meltdown during her calculus exam. Like a rip-up-the-test-and-get-escorted-out kind of meltdown. And she definitely didn't plan on never wanting to show her face again.

Mara knows she should go back,only she can't bring herself to do it. Because suddenly she doesn't know why she's been overachieving all these years. So Mara tells her mom she wants to go live with her estranged dad in Tahoe. Maybe in a place like Tahoe, where people go to get away from everyday life, and with a dad like Trick McHale, a ski bum avoiding real life, Mara can figure things out.

Except Tahoe is nothing like she thought it would be. There are awesome new friends and a chance to finally get to know Trick, but there are also still massive amounts of schoolwork. Can Mara find a balance between the future and the now, or will she miss out on both?
As a perfectionist, this book really resonated with me. I completely felt the pressure that Mara was facing. I went to a pretty high ranking school that was known for it's high GPAs and ACT scores and dozens of AP classes. I knew the pressure of balancing school, homework, and extracurriculars. I spent many nights freaking out about school and it wasn't uncommon for me to have panic attacks. So when Mara had a complete meltdown (mine wasn't nearly as big nor did it go viral), I connected with her.
Mara decides to go to Tahoe, not only to get away from school and having to show her face, but to connect with her father she hasn't seen in years. Plus it doesn't help that Tahoe is know for being laid-back. However, Mara soon realizes that there's more to Tahoe to relaxation and skiing. With the help of new friends and her father, she realizes that she can find a way to enjoy her life and still be prepared for her future.
I loved the chemistry between the characters, whether it was romantic or friendly. Each character is unique and different. Of course there is a little romance, but I won't give anything away. All I'll say is that it's super cute and slowly develops, making it more realistic. The growing relationship between Mara and her father is wonderful too. After not seeing each other for years, it's not surprising that things would be awkward at first. However, their relationship mends and they learn more about each other.
Overall, this book was super cute and had great character development. It was a great story about self-discovery, school, friends, and family. I think that anyone who reads this will be able to connect with this book in one way or another and take something away from it.
The author was kind enough to host a giveaway!
a Rafflecopter giveaway
Kim Culbertson is the author of Catch a Falling Star; Instructions for a Broken Heart, a Northern California Book Award winner; and Songs for a Teenage Nomad. When she's not writing young adult novels, she teaches high school creative writing. Kim lives with her husband and their daughter in Northern California. For more about Kim, visit www.kimculbertson.com.