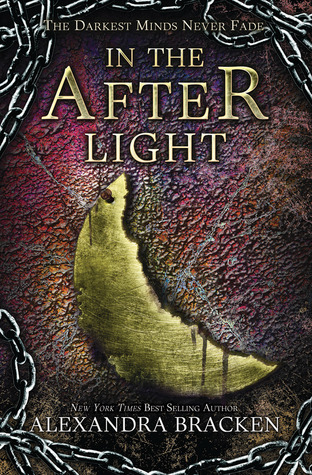 Title: "In the Afterlight"
Series: The Darkest Minds, #3
Author: Alexandra Bracken
Website ~ Blog ~ Twitter ~ Instagram ~ Tumblr ~ Facebook ~ Pinterest
Published: October 28, 2014
Publisher: Disney-Hyperion
Genres:
Young Adult, Science Fiction, Romance
Pages: 535
Format: Hardcover
Source: MeL Cat
Goodreads ~ Amazon ~ Barnes & Noble
Ruby can't look back. Fractured by an unbearable loss, she and the kids who survived the government's attack on Los Angeles travel north to regroup. With them is a prisoner: Clancy Gray, son of the president, and one of the few people Ruby has encountered with abilities like hers. Only Ruby has any power over him, and just one slip could lead to Clancy wreaking havoc on their minds.

They are armed only with a volatile secret: proof of a government conspiracy to cover up the real cause of IAAN, the disease that has killed most of America's children and left Ruby and others like her with powers the government will kill to keep contained. But internal strife may destroy their only chance to free the "rehabilitation camps" housing thousands of other Psi kids.

Meanwhile, reunited with Liam, the boy she would-and did-sacrifice everything for to keep alive, Ruby must face the painful repercussions of having tampered with his memories of her. She turns to Cole, his older brother, to provide the intense training she knows she will need to take down Gray and the government. But Cole has demons of his own, and one fatal mistake may be the spark that sets the world on fire.
Sadly I didn't get to this book as quickly as I would have liked (the time between I finished Never Fade and started this book was about a week and a half), it helped lift my spirits after finishing a book that disappointed me. Yes, I'm looking at you Frozen. It also helped make me feel better while studying for midterms, which I probably shouldn't have done looking back at how stressed I was...
It's so hard to think of how to properly explain my feelings about this book and series as a whole. Starting this series, I hoped that I would like it, but I had no clue that it would chop up my heart into tiny bite-sized pieces, fry them, put them back together in the wrong order, and then shove it back into my chest. Looking back at it, I'm just... wow. Not many books have really emotionally-effected me *cough* Strange and Ever After *cough*.
In the Afterlight starts soon after the ending of its predecessor, Never Fade. Ruby is heartbroken after the unexpected loss of a loved team member (it still hurts to think about it), but she still has hope for the future. Since she know knows the cause, the coverup, and cure for IAAN, she has a lot of power that she's plans on using to help everyone, even if it means putting herself in danger with the possibility of dying.
While there is a lot happening in the book, Ruby and Liam's relationship does play a pretty important role. Liam is trying to cope with the fact that Ruby altered his memories, so he's trying to remember everything that he's forgotten and make sense of the current state of their relationship. Ruby is having to deal with the consequences of her actions, and while she still loves him, she doesn't want him to be hurt, especially by her.
I thought that the entire book was pretty dramatic, along with being an emotional roller coaster. Everyone's pretty much trying to fight for their life. There's also a lot of fighting between the team members, especially Ruby, Liam, Cole, Vida, and Chubs. There were moments when I wasn't sure if things could get better with all the fighting, but they knew that they'd have to get along somehow. The last third or quarter of the book is especially emotional and had me at the edge of my seat, turning pages as fast as possible. I was holding back tears because even though I was so sad, I loved the ending.
Overall, this was an amazing, explosive ending to an incredible trilogy. I'm so sad that it's over, but I've absolutely loved the story. And yes, I'm still dealing with my emotions for this book. I can't wait to read Passenger, even if I have read some mixed reviews!