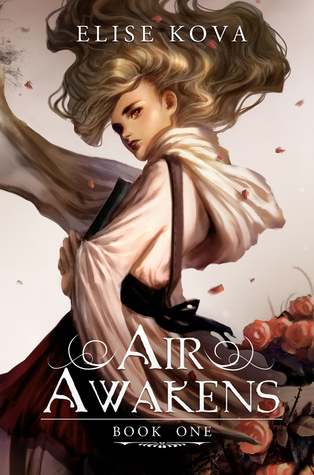 Title: "Air Awakens"
Series: Air Awakens, #1
Author: Elisa Kova
Website ~ Facebook ~ Twitter ~ Instagram ~Tumblr
Published: August 27, 2015
Publisher: Silver Wing Press
Genres: Young Adult, Fantasy, Magic
Pages: 377
Format: Paperback
Source: Bought
Goodreads ~ Amazon ~ Barnes & Noble
A library apprentice, a sorcerer prince, and an unbreakable magic bond...

The Solaris Empire is one conquest away from uniting the continent, and the rare elemental magic sleeping in seventeen-year-old library apprentice Vhalla Yarl could shift the tides of war.

Vhalla has always been taught to fear the Tower of Sorcerers, a mysterious magic society, and has been happy in her quiet world of books. But after she unknowingly saves the life of one of the most powerful sorcerers of them all—the Crown Prince Aldrik—she finds herself enticed into his world. Now she must decide her future: Embrace her sorcery and leave the life she's known, or eradicate her magic and remain as she's always been. And with powerful forces lurking in the shadows, Vhalla's indecision could cost her more than she ever imagined.
After seeing so many people gush about this book on Twitter, I decided I might as well order it and see what all of the excitement was all about. However, I was a bit weary since it's self-published, and I guess I have a tendency to be nervous when I hear that. It has nothing to do with thinking that it's lower quality, I just worry about how well it could be edited and such. But I am so happy I caved.
Vhalla Yarl is a library apprentice who stays away from sorcerers and magic, but after saving the life of the crown prince, it's discovered that she has magic inside her. A magic she never knew she had, and one that hasn't been seen in over 100 years. After having her powers awakened, she's thrust into a world she was always told to stay away from. Even though she's wary and is unsure what to think, she finds herself drawn into this new society and feels comfortable, especially with Crown Prince Aldrik, who is powerful and aloof.
I love how when Vhalla finds out that she has magic, she doesn't completely accept it or push it away. She wants to explore it a little bit, even if she was always told that it was terrible. To me, this just seemed more natural. Sometimes in books, when a character finds out that they are the chosen one or something, they embrace it 100% and don't look back. Other times, they spend the entire book pushing it away and refusing to even look at it. While she did doubt herself and her magic along the way, she does realize that she is capable of great things.
I had some mixed feelings about Aldrik. He was usually really nice, but he did have moments when I just wanted to slap him. Do you REALLY have to be a jerk face so much? And do you REALLY need to be so bipolar without warning? I know that he cares about Vhalla, but there are times when I thought that he could have said something, like preparing her for when he was going to be a jerk. Maybe we'll see some character development in Fire Falling, especially after that ending! But I really liked his brother, Baldair. Maybe it was because they are two totally different people. Even though he isn't there too much, I can tell that he's thinking about something and we'll definitely see him again in the sequel.
I really liked the pacing of the book, and the pacing can either make or break a book for me. There were a couple more intense, actiony scenes, but it wasn't boring in between those moments. There were still important, but not overwhelmingly important, moments happening. And the ending! The ending is terrible! In a good way that is. I totally DID NOT expect any of that to happen. It will be so interesting to see how everything plays out after what happened. The wait is terrible! But fortunately Fire Falling is coming out November 19, the day after my birthday, so that's not too long.
Overall, this book was amazing and has helped me get over some of my nervousness for self-published books. And it doesn't hurt that the cover is gorgeous! I have a feeling the the sequel will be just as amazing!