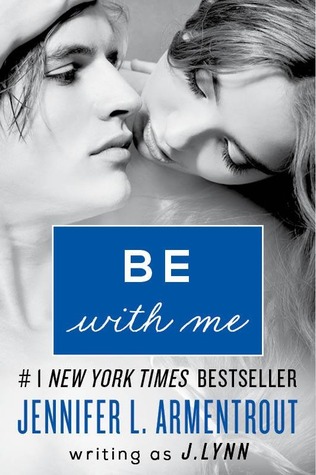 Title: "Be With Me"
Series:
Wait for You, #2
Author: J. Lynn
Website ~ Blog ~ Twitter ~ Facebook
Published: February 4, 2014
Publisher: Willliam Morrow Paperbacks
Genres: New Adult, Contemporary, Romance
Pages: 365
Format: eBook
Source: Overdrive
Goodreads ~ Amazon ~ Barnes & Noble
Teresa Hamilton is having a rough year—she's in love with her big brother's best friend, but he hasn't spoken to her since they shared a truly amazing, mind-blowing, change-your-life kiss. She got out of a terrible relationship. And now an injury is threatening to end her dance career for good. It's time for Plan B – college. And maybe a chance to convince Jase that what they have together is real.

Jase Winstead has a huge secret that he's not telling anyone. Especially not his best friend's incredibly beautiful sister. Even though he and Teresa shared the hottest kiss of his life, he knows that his responsibilities must take priority. He certainly doesn't have time for a relationship. But it doesn't help that all he can think about kissing the one girl who could ruin everything for him.

As they're thrown together more and more, Jase and Tess can't keep denying their feelings for each other. But a familiar danger looms and tragedy strikes. As the campus recovers, the star-crossed couple must decide what they're willing to risk to be together, and what they're willing to lose if they're not…
In the first book of the series, we met Avery and Cam. In this book we meet Teresa, Cam's little sister. College was never in Teresa's plans. But an injury that could end her dance career forces her to change them all. To top it all off, she recently got out of a bad relationship and is still in love with Jase, her brother's best friend. Even though Jase likes Teresa, he has plenty of secrets and reasons to not be with her. But fate seems to think they should be together, as they keep crossing paths and they realize they can no longer deny their feelings for each other.
While this book is quite similar to its predecessor, it does have some differences. Just like in the first book, the main girl, Tess, has some baggage. However, in this case, the love interest, Jase, is aware of it, unlike Cam who didn't know what had happened to Avery prior to the events of the book. And another difference is that Jase has baggage too. Yeah, I know that Cam had some too, but not to the extent of Jase's. But just like with Wait for Me, Tess is unaware of everything about Jase.
I think one of the reasons I liked this book was because Tess is a dancer, so that made me super excited to see that. I haven't read too many books where the main character is a dancer or has dance background, so it was so cool to see that. Her dance background and her injury, a torn ACL, captured my attention. As a dancer, I cannot imagine how hard it would be to hurt yourself and then realize that your career, everything you love and have worked towards, is over. This connection that I was able to have with Tess made me like her more than I probably would. However, I didn't like Jase as much as I did Cam. Even though I found Cam to sometimes be a little pushy, I liked him most of the time. But with Jase, I just found him aggravating. He was so hot and cold the entire time. Sure, it's a little more understandable when he learn more about him, but it was still so annoying. One moment he's super in love with Teresa, the next he's pushing her away and doesn't want to see her ever again. I know you have issues but that's no reason so play with other people' emotions!
However, I really liked how this progressed. Teresa had to go through a lot of personal development with her injuries and her abusive ex-boyfriend, and Jase had his own problems that he had to face. Even though I was annoyed with Jase pretty often, I did like how the relationship grew, when Jase wasn't trying to end things. They were two people who cared about each other and had obstacles that they had to overcome on there own. Sure, the other was a support system, but they didn't really on them to fix their own issues. I liked how Teresa continued to be her own person.
Overall, this was a great sequel to Wait for Me and a great way to meet a new couple, but still have some of what we knew from the first book stick around. We knew a little bit about these two in the first book, but this book was dedicated to them and we got to focus on them and their story. Another great contemporary book that's helping me work my way into the genre. I can't wait to read the next book about Calla, Teresa's friend.