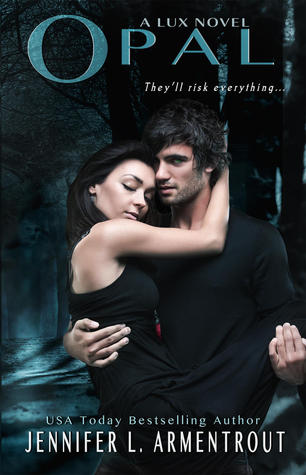 Title: "Opal"
Series: Lux, #3
Author: Jennifer L. Armentrout
Website ~ Blog ~ Twitter ~ Facebook
Published: December 1, 2012
Publisher: Entangled Teen
Genres: Young Adult, Aliens, Paranormal
Pages: 382
Format: Paperback
Source: MeL Cat
Goodreads ~ Amazon ~ Barnes & Noble
After everything, I'm no longer the same Katy. I'm different... And I'm not sure what that will mean in the end. When each step we take in discovering the truth puts us in the path of the secret organization responsible for torturing and testing hybrids, the more I realize there is no end to what I'm capable of. The death of someone close still lingers, help comes from the most unlikely source, and friends will become the deadliest of enemies, but we won't turn back. Even if the outcome will shatter our worlds forever.

Together we're stronger... and they know it.
After the events of Onyx, things are pretty crazy with the aftermath of Adam's death and Dawson's reappearance. Ash, Andrew, and Dee blame Katy and Daemon for his death, which causes a huge rift in the group. Daemon doesn't blame Katy, and he's essentially the only one on her side. Dawson is different after returning, but he tries to got back to having a normal life and goes back to school. However, all he wants to do is free Beth, who is still trapped by the DoD. Katy and Daemon continue to get closer, and I guess you could say they're pretty electrically charged. Ha ha. Cause, you know, the Luxen can control light and electrical stuff. I think it's funny.
The book is pretty focused on figuring out how to sneak into Mount Weather, the place where Beth is being held. They realize that they truly don't know what to expect, and only know what Dawson knows from his experience there. However, they realize that they really aren't prepared to break in, so they spend a lot of the book training so that they can break in successfully and not die. Not dying is always good. Especially since someone just died and everyone hates Katy for it.
Another focus of the book is Katy and Daemon's relationship. The first book was them hating each other. The second book was Katy trying to ignore Daemon's advances. In this book it's Katy realizing that she really does like Daemon and they get much more intense... and spicy... in their relationship. C'mon. We all saw it coming. However, even though it was predictable, it doesn't bother me. It wasn't instalove so that's why I don't mind it.
The ending is terrible in an absolutely heartbreaking, ready to punch someone in the face kind of way. Like... seriously. When I finished, I didn't think that it was over yet, so I kept flipping the pages and saw the author page and realized that it was! It was so evil! Something that I totally DID NOT expect. And it absolutely made the wait for Origin completely painful.
Overall, this was a great sequel to the series full of many surprises and lots of heartache. It had so many intense action and romantic swoony moments mixed throughout. With an incredibly painful ending, you'll want to start Origin immediately!