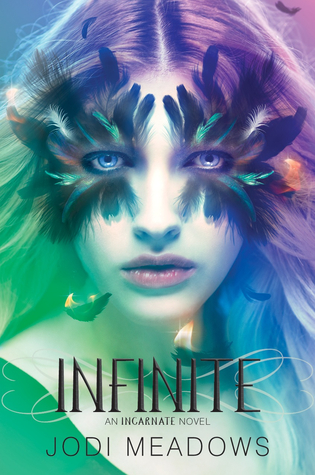 Title: "Infinite"
Series:
Newsoul, #3
Author: Jodi Meadows
Website

~

Twitter

~

Facebook

~

Tumblr

~

Pinterest
Published: January 28, 2014
Publisher: Katherine Tegen Books


Genres: Young Adult, Dystopia, Fantasy
Pages: 418
Format: Hardcover
Source: MeL Cat



Goodreads ~ Amazon ~ Barnes & Noble

DESTRUCTION

The Year of Souls begins with an earthquake—an alarming rumble from deep within the earth—and it's only the first of greater dangers to come. The Range caldera is preparing to erupt. Ana knows that as Soul Night approaches, everything near Heart will be at risk.

FLIGHT

Ana's exile is frightening, but it may also be fortuitous, especially if she can convince her friends to flee Heart and Range with her. They'll go north, seeking answers and allies to stop Janan's ascension. And with any luck, the newsouls will be safe from harm's reach.

CHOICE

The oldsouls might have forgotten the choice they made to give themselves limitless lifetimes, but Ana knows the true cost of reincarnation. What she doesn't know is whether she'll have the chance to finish this one sweet life with Sam, especially if she returns to Heart to stop Janan once and for all.

With gorgeous romance and thrilling action, the final book in the Incarnate trilogy offers a brilliant conclusion to the compelling questions of this fascinating world, where one new girl is the key to the lives of millions.
Can I just take a second to drool over this cover please? I mean... LOOK AT IT! It's gorgeous! I want to lick it or something! Oops, did I say that out loud? A little too weird. Sorry 'bout that, guys. *Wipes drool off of face and sets down book*
After Ana is exiled from Heart, Sam and their friends join her in her journey leaving Heart and Range. She has a plan to find out what, or who, Janan really is, and what she can do to stop him. This will be hard, as everyone of the oldsouls, including Sam, made a terrible choice many years ago before they became reincarnated, but Ana knows what their choice was. And even though helping them to remember will be hard, she knows what she has to do to help them remember.
I loved Ana's hope. She know that there were so many forces and people working against her, but she just kept pushing. Even when Sam was unsure of her plans, she kept pushing. She knew that she was the only one who could do this, and she didn't back down. I've read books where once people stop believing in her, the protagonist just gives up. She doesn't let others' opinions sway her. Even when it was only just her, she kept going. I kept rooting for her and she didn't let me down!
It was really interesting to watch Ana and Sam's relationship. It was obvious that they cared about each other, but things weren't perfect. Ana knew she wanted to be with him, but it still hurt that he had lived so many lives and had so much experience, and she knew nothing. She was living her first life and was raised by an uncaring mother who told Ana that she'd never be able love anyone. And because of Ana's inexperience, Sam held back a lot. I was just like, "Dude, you don't know what's going to happen next. Just accept her, lack of experience and all! Sure, it bothers Ana, but you're with her NOW! Make the most of it!"
I have to admit something: I never trusted Sam. I don't know why, but I just always had a bad feeling about him. He just seemed too perfect. He accepted Ana right away, not caring that she was a new soul and teaching her to allow herself to love people, as he knew she was capable of loving. And now I feel terrible for not trusting him! Sam, you are perfect! Well... you have some small flaws, but overall you're pretty perfect! Please don't change, just stay the way you are! I'm so sorry!
I loved all of the magical creatures that showed up during the book. Even though I'm not sure if I ever figured out, or remembered, how they got there, it was so cool! Maybe they were always there, and I don't remember reading that. But I loved the inclusion of these different creatures and how they played a role in the book. I liked how it was questioned if they had souls too, and were reincarnated as well. It kind of matches the real world too, the Do-Animals-Have-Souls-Too Debate.
The ending is both beautiful and heartbreaking, in true Jodi Meadows style. Just when I thought that everything was over, she surprises us with a beautiful ending that brought tears to my eyes. I was so sad with how things ended, but then things got better. I just read that last chapter over and over and kept smiling and blinking back tears. While it was not the ending I had hoped for, it was amazing and was perfect. In a way, the ending seemed... hopeful, I guess I should say. I don't want to spoil anything, but it was a gorgeous ending to a trilogy that made me feel so many emotions.
Overall, this book was amazing, gorgeous, and painful, in a good way. It was a fantastic conclusion to a beautiful series. I loved the way that Jodi Meadows wraps up all the loose ends to create an ending you didn't expect and didn't know you wanted. I can't wait to read this great combination of beauty and pain in her other works!