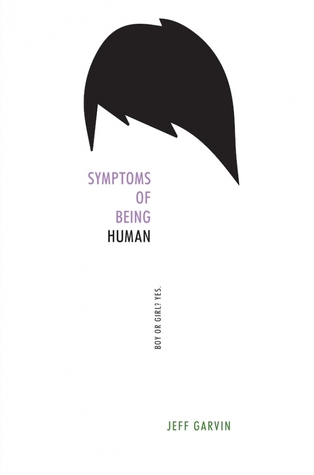 Title:
"Symptoms of Being Human
Author: Jeff Garvin
Publisher: Balzer + Bray
Published: February 2, 2016
The first thing you're going to want to know about me is: Am I a boy, or am I a girl?

Riley Cavanaugh is many things: Punk rock. Snarky. Rebellious. And gender fluid. Some days Riley identifies as a boy, and others as a girl. The thing is…Riley isn't exactly out yet. And between starting a new school and having a congressman father running for reelection in uber-conservative Orange County, the pressure—media and otherwise—is building up in Riley's so-called "normal" life.

On the advice of a therapist, Riley starts an anonymous blog to vent those pent-up feelings and tell the truth of what it's REALLY like to be a gender fluid teenager. But just as Riley's starting to settle in at school—even developing feelings for a mysterious outcast—the blog goes viral, and an unnamed commenter discovers Riley's real identity, threatening exposure. Riley must make a choice: walk away from what the blog has created—a lifeline, new friends, a cause to believe in—or stand up, come out, and risk everything.
I was lucky enough to interview the author for my SST post!
What do you think of the current representation of gender fluid individuals in books, media, and society?
Right now, there isn't much representation of gender fluid people in the media--but if you browse YouTube or Tumblr, you can watch and read thoughts and personal stories by gender non-binary people, unfiltered by media bias or commercial concerns. If you want to learn more, that's where I'd start. I hope we're at the beginning of the next social revolution, in which people come to accept that gender identity is distinct from birth-assigned sex, and that it isn't binary.



What do you think of the current books that are about LGBTQIA teens, and what to do you see in the future for these books?
I think there are many YA authors, among them Robin Talley, Adam Silvera, Becky Albertalli, Dahlia Adler, and many more, who do a great job of telling good stories that include LGBTQIA teens. I hope characters who happen to be LGBTQIA continue to populate the fictional world as richly as they populate the real one.



Since your book is about Riley, a gender fluid teen, do you have any advice for other teens like Riley?
When I was teenager, I struggled to sort out which parts of my identity were really me and which parts I had constructed to survive the social environment of high school. I guess my advice would be: give yourself space to discover who you are. Listen more to your inner guiding voice than to the shouts and jeers from outside.



Do you have any advice for aspiring authors?
I can't stress this enough: make writing a daily habit. Get addicted to it. (I recommend The Power of Habit by Charles Duhigg.) Being able to write consistently and finish what you start will put you ahead of the pack. Worry about all the business stuff later.



You were in a rock band before becoming an author, at that time did you see becoming an author in your future?
When my band broke up five years ago, I dug out my childhood "What I Want to be When I Grow Up" list. There were four items: Actor (did that), Singer (did that), Astronaut (turns out there's a lot of math) and Novelist. I'd written a dozen or so short stories in Junior High and high school, and had dreamed of one day writing a novel, but I'd never done it. So I convinced my friend, Dan, to do NaNoWriMo with me, and I never looked back.



Has your experience with being a musician influenced your writing?
Writing lyrics requires discipline; that's certainly helped me write (and actually finish) novels. Performing live helped me develop the ability connect with my audience; I hope that translates into my writing. But most importantly, writing songs gave me practice at turning my own emotions and experiences into something to be enjoyed by another. I think that's true of any art.



Do you have any other books that you're working on right now?
I am currently revising my next novel--it's not directly related to Symptoms of Being Human, but it is Contemporary YA. I can't say much more about it just yet. It will be published by HarperCollins/Balzer + Bray, probably in 2017.
a Rafflecopter giveaway
Before becoming a novelist, Jeff Garvin acted on TV and toured as the lead singer of a rock band. He has a BFA in Film from Chapman University and lives in Southern California, surrounded by adorable, shedding beasts.