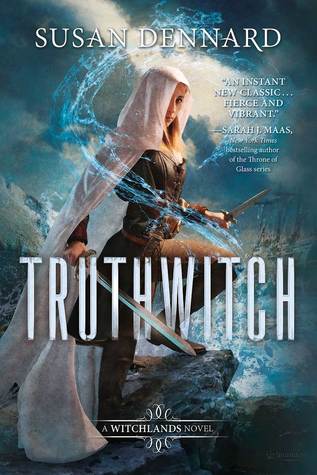 Title: "Truthwitch"
Series: The Witchlands, #1
Author: Susan Dennard
Website ~ Blog ~ Twitter ~ Facebook ~ Pinterest ~ Tumblr ~ YouTube
Published: January 5, 2015
Publisher: Tor Teen
Genres: Young Adult, Fantasy, Romance
Pages: 416
Format: Hardcover
Source: Bought
On a continent ruled by three empires, some are born with a "witchery," a magical skill that sets them apart from others.



In the Witchlands, there are almost as many types of magic as there are ways to get in trouble—as two desperate young women know all too well.





Safiya is a Truthwitch, able to discern truth from lie. It's a powerful magic that many would kill to have on their side, especially amongst the nobility to which Safi was born. So Safi must keep her gift hidden, lest she be used as a pawn in the struggle between empires.





Iseult, a Threadwitch, can see the invisible ties that bind and entangle the lives around her—but she cannot see the bonds that touch her own heart. Her unlikely friendship with Safi has taken her from life as an outcast into one of reckless adventure, where she is a cool, wary balance to Safi's hotheaded impulsiveness.





Safi and Iseult just want to be free to live their own lives, but war is coming to the Witchlands. With the help of the cunning Prince Merik (a Windwitch and ship's captain) and the hindrance of a Bloodwitch bent on revenge, the friends must fight emperors, princes, and mercenaries alike, who will stop at nothing to get their hands on a Truthwitch.
Truthwitch has been one of my most anticipated 2016 reads. I absolutely LOVED her Something Strange and Deadly trilogy, and needed more of her writing. The moment I heard about it in Susan Dennard's Misfits & Daydreamers newsletter (which is amazing), I knew I needed it in my hands. I was so sad to hear that it was pushed back from December 2015 to January 2016, but it was well worth the wait. Also being a part of The Witchlands, the Street Team for the book, made me more excited (it had its highs and lows, but that's a discussion for a later date).
The Witchlands is full of magic of many kinds, from water to fire, earth to air, and aether to, the believed extinct, void. With there being so many different witcheries, war is inevitable. Enter Safi and Iseult, two young women who are in the midst of something much bigger than themselves. They're on the run from people who want to control them, but they would do anything to keep from being captured.
The reason why I love this book so much is because of them emphasis on friendship. Yeah, there's a little bit of romance, but that's not the focus. So many books seem to be all about whether or not the boy and girl get together, however, Truthwitch focuses on two best friends relying on each other for safety and to what lengths they'll go to to protect the other. The constant threat of danger keeps the readers on edge wanting to know if the pair escapes their enemies in the nick of time. This non-stop action paired with amazing magical abilities creates a gorgeous fantasy world. While fire, water, earth, and air are elements that everyone is already familiar with, aether and void are new (at least to me) and helped to set this world's magic apart from others.
The characters also make it a great read. First there are Safi and Iseult, the best friends fighting for control over their lives. Safi was born into a noble family and is hot-headed, impulsive, and stubborn. Isuelt is her complete opposite. Born into a nomadic minority, she faces discrimination from everyone. She's calm, quiet, and contemplative. The two balance each other, creating a great pair. Then there's Merik, a Windwitch prince who has a tendency to get riled up. And last, but certainly not least, is Aeduan, a Bloodwitch who won't stop until he's finished what he's set out to do. These four characters keep the plot moving, with its many twists and turns.
Overall, this book was a beautiful fantasy novel that created a gorgeous world and unique characters. With its ending it's needless to say that I desperately need the sequel!