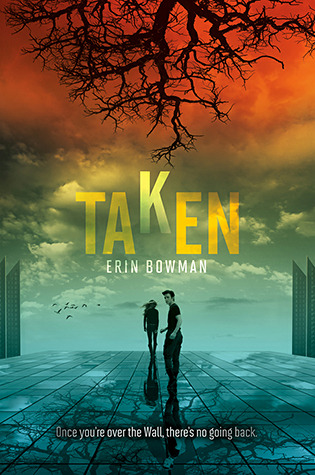 Title: "Taken"
Series: Taken, #1
Author: Erin Bowman
Website ~ Twitter ~ Tumblr ~ Pinterest ~ YouTube ~ Instagram
Published: April 16, 2013
Publisher: HarperTeen
Genre: Young Adult, Dystopian, Adventure
Pages: 360
Format: Hardcover
Source: MeL Cat
Goodreads ~ Amazon ~ Barnes & Noble
There are no men in Claysoot. There are boys—but every one of them vanishes at midnight on his eighteenth birthday. The ground shakes, the wind howls, a blinding light descends…and he's gone.

They call it the Heist.

Gray Weathersby's eighteenth birthday is mere months away, and he's prepared to meet his fate–until he finds a strange note from his mother and starts to question everything he's been raised to accept: the Council leaders and their obvious secrets. The Heist itself. And what lies beyond the Wall that surrounds Claysoot–a structure that no one can cross and survive.

Climbing the Wall is suicide, but what comes after the Heist could be worse. Should he sit back and wait to be taken–or risk everything on the hope of the other side?

I have to admit that I'm pretty disappointed by this book. This series has been on my TBR for a while, but I just never got around to that. However, after reading Vengeance Road and loving it and reading Erin's discussion of grey characters in one of Susan Dennard's newsletters, I decided that it was time to read this. Sadly, all of that hype made the disappointment a little worse.
Erin Bowman discussed grey characters and how she's written her grey characters in one of Susan Dennard's newsletters. I really enjoyed Kate in Vengeance Road and loved how she wasn't good or bad, she was grey. And that made me interested to read about her other grey character from her debut trilogy, Gray. However, I didn't find him to be grey at all. I just got the impression that he was a whiny teenager who could never decide on anything and was constantly wavering on his opinions on everything, whether it be what girl he liked more, who he trusted, or what he wanted to do. He wasn't grey; he was indecisive.
While I didn't like Gray, the concept of the book was interesting. Boys mysteriously get taken on their eighteenth birthday? And there's a Wall surrounding their village that is pretty much impossible to cross? What? I want to know how things are going to work out. Can they cross the Wall? What will happen if they can cross it? Where to these boys go? I need answers! In the end, however, some of the outcomes were predictable, but I was still surprised by the majority of answers to these questions.
While I've now discussed what I liked and how I did not like the main character, I now need to discuss another big thing that bothered me. The love triangle. There are two girls that Gray is interested in. One is Emma, a girl he has known since he was a child who is super sweet (and incredibly clingy and whiny). And the other is Bree, a fighter who has a tendency to be abrasive and cold, but does have her moments when she lets others in. Just like in other love triangles where it's one girl and two boys, Gray can't make up his mind. But he constantly LEADS THEM ON. And he acts like it's TOTALLY OK. Dude, it's not. Don't be a heartless jerk who doesn't care much for women. Not cool at all. Plus he totally beat the crap out of a girl at the very beginning of the book, so that shows how well he treats women.
Overall, while I had problems with the main character and his behaviors, the concept was pretty good. And while I didn't love this book, I do want to read the rest of the trilogy and see if it (*cough* Gray *cough*) gets any better.