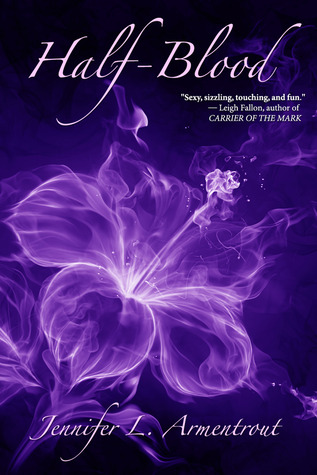 "Half-Blood (Covenant, #1)" by Jennifer L. Armentrout
Website ~ Blog ~ Twitter ~ Facebook
Published: September 19, 2011
Publisher: Spencer Hill Press
Genres: Young Adult, Mythology, Romance
Pages: 281
Format: Paperback
Source: MeLCat
Read February 4 to 7, 2015
GoodReads ~ Amazon ~ Barnes & Noble
The Hematoi descend from the unions of gods and mortals, and the children of two Hematoi pure bloods have godlike powers. Children of Hematoi and mortals--well, not so much. Half-bloods only have two options: become trained Sentinels who hunt and kill daimons or become servants in the homes of the pures. Seventeen-year-old Alexandria would rather risk her life fighting than waste it scrubbing toilets, but she may end up slumming it anyway. There are several rules that students at the Covenant must follow. Alex has problems with them all, but especially rule #1: Relationships between pures and halfs are forbidden. Unfortunately, she's crushing hard on the totally hot pure-blood Aiden. But falling for Aiden isn't her biggest problem--staying alive long enough to graduate the Covenant and become a Sentinel is. If she fails in her duty, she faces a future worse than death or slavery: being turned into a daimon, and being hunted by Aiden. And that would kind of suck.
I just need to say that I wanted to love this book. I desperately wanted to just LOVE it! It's Jennifer L. Armentrout, I've loved all of her books, and I wanted to love this one as well. But... I just didn't love it.
I think that this was do to the glaring similarities that it has with Vampire Academy. I mean, it's slightly different, but they are just SO similar. I couldn't get over all of them and all I was thinking about was that series with Rose, Lissa, and Dimitri. I was trying not to think about them, but they just kept popping up in my mind.
Alex returns to Diety Island after her mother is killed and must do some personal training with a hot older guy, Aiden, to prove that she is good enough to stay in the Covenant.
Already sounding like Vampire Academy, right?
And the supa hawt guy is off limits...
Vampire
But that doesn't stop them from having feelings for each other.
Academy
I'm not sure if I can do too much of this review, because then it will sound like I'm bashing it for sounding like Vampire Academy, but I'm not trying to!
I really liked Alex, though. She was sassy and did what she wanted. Aiden seems nice, kinda a wet blanket. I'm not sure how I feel about Seth yet. I think I'll have to read the next book to make a decision.
Alex
I like her. Similar to Rose, but she was still her own character.
Aiden
Wet blanket. Relax dude. You're young, loosen up!
Seth
Seems a little creepy right now.
Overall, I think I would have loved this book had I not already read Vampire Academy. I plan to read the rest of the series, so I hope that it veers off of the track that the other series travels. I want to love this book!!!