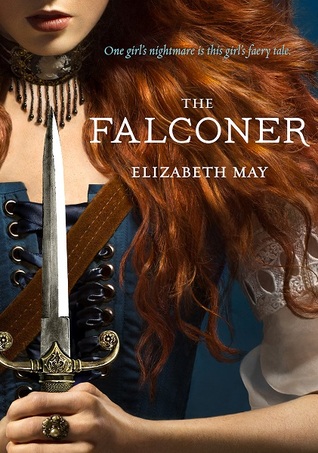 "The Falconer (The Falconer, #1)" by Elizabeth May
Website ~ Twitter ~ Facebook ~ Pinterest ~ Tumblr ~ Instagram
Published: September 19, 2013
Publisher: Chronicle Books
Pages: 378
Genres: Young Adult, Fantasy, Historical
Format: Hardcover
Source: Library
Read March 5 to 18, 2015
GoodReads ~ Amazon ~ Barnes & Noble
Heiress. Debutant. Murderer. A new generation of heroines has arrived.
Edinburgh, Scotland, 1844


Lady Aileana Kameron, the only daughter of the Marquess of Douglas, was destined for a life carefully planned around Edinburgh's social events – right up until a faery killed her mother.
Now it's the 1844 winter season and Aileana slaughters faeries in secret, in between the endless round of parties, tea and balls. Armed with modified percussion pistols and explosives, she sheds her aristocratic facade every night to go hunting. She's determined to track down the faery who murdered her mother, and to destroy any who prey on humans in the city's many dark alleyways.
But the balance between high society and her private war is a delicate one, and as the fae infiltrate the ballroom and Aileana's father returns home, she has decisions to make. How much is she willing to lose – and just how far will Aileana go for revenge?
I can't see the entire outfit that this model is wearing, but based off of what I see, I know I want it. Plus I would so dye my hair that color. I would totally go ginger.
Aileana has been killing fae for a year now, with the help of Kiaran, who is a fae himself. However, the magic that has been holding hundreds of fae captive from the rest of the world is weakening, allowing them to escape, and Aileana is the only Falconer left, the only one who has the power to save everyone.
Aileana has been trying to track the fae that killed her mother by killing all of the fae that crosses her path. I love how the scenes where Aileana kills are so beautiful. It's gory, yet not disgusting. It's almost poetic and gorgeous. And I loved every scene!
The love triangle was... interesting. It was sort of a love triangle, but not really. Even though Gavin, Aileana's best friend's brother, is a love interest, he says he's not in love with her. So it's kind of weird. And then there's Kiaran, as I mentioned before. He's Aileana's mentor, and they have this weird sexual tension relationship with lots of banter and touchy-feely moments. So this triangle was confusing, so maybe it will be explained better in the next book.
The thing that really bothered me was the Scottish words. All of the fae types and names were hard to understand. I wish that there was a pronunciation list somewhere in the book that could be referenced. That would have made life SOOOO much easier.
Aileana
Kick ass Scottish fae killer. Amazingness all in one. I would like to see some more development in her character. But I still love her!
Kiaran
I found him confusing. He was so hot and cold that I never really knew what to expect with him, but I guess that's how it was supposed to be.
Gavin
He was also a little confusing. He was a romantic interest, but he made it seem like he wasn't in love with Aileana. It was just a bit odd to me.
Overall, I LOVED this book! There were parts that I didn't like too much, but it was still amazing! That cliffhanger though. Oh my god. I about died. I NEED the next book NOW!