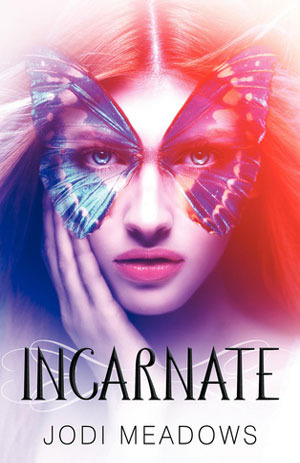 "Incarnate (Newsoul, #1)" by Jodi Meadows
Website ~ Twitter ~ Facebook ~ Tumblr ~ Pinterest
Published: January 31, 2012
Publisher: Katherine Tegen Books
Pages: 374
Genres: Young Adult, Dystopia, Romance
Format: Paperback
Source: MeL Cat
Read March 25 to 29, 2015
GoodReads ~ Amazon ~ Barnes & Noble
New soul
Ana is new. For thousands of years in Range, a million souls have been reincarnated over and over, keeping their memories and experiences from previous lifetimes. When Ana was born, another soul vanished, and no one knows why.
No soul
Even Ana's own mother thinks she's a nosoul, an omen of worse things to come, and has kept her away from society. To escape her seclusion and learn whether she'll be reincarnated, Ana travels to the city of Heart, but its citizens are afraid of what her presence means. When dragons and sylph attack the city, is Ana to blame?
Heart
Sam believes Ana's new soul is good and worthwhile. When he stands up for her, their relationship blooms. But can he love someone who may live only once, and will Ana's enemies—human and creature alike—let them be together? Ana needs to uncover the mistake that gave her someone else's life, but will her quest threaten the peace of Heart and destroy the promise of reincarnation for all?
Jodi Meadows expertly weaves soul-deep romance, fantasy, and danger into an extraordinary tale of new life.
This cover is GORGEOUS! Like, I just think it that it's so beautiful. The wings, the eyes, the colors. They're all just so amazing!
I love how this book discusses reincarnation. I thought that it was so interesting how the souls would be reincarnated in male and female bodies, so every had had experience being the other sex. I thought that it was cool how the souls would become different people each time they were born, but they would be born in different bodies. However, I do feel like it could be awkward that if in one life, someone was your lover and then was your parent in another. Or if you were siblings. Things might become a bit messy.
I love how the book also tackles religion. Janan is what you could compare to God. Many people believe in him, others don't. Everyone has different opinions, and often can't agree. Just like how us humans have varying opinions about God and other deities. It was interesting to hear the characters' thoughts.
I really liked Ana. After being raised by an abusive mother, of course she will have issues with other people. I totally understood her relationship with Sam. She never had anyone truly care about her, so naturally she would be really hesitant. She doesn't completely trust Sam, even though she desperately wants to. She doesn't understand that someone could care about her, a nosoul. Sam calls her a newsoul, telling her that just because she isn't one of the reincarnated souls, she still has one and is capable of loving and being loved. I loved how it wasn't a perfect, love at first sight romance. There were bumps to it. It actually seemed realistic!
With how people would have experience be both male and female, I feel like that might make things awkward. What if they liked sex as a male, but not as a female? What if they kept being born a male, but preferred being a female? What if your lover, who you had been with for many times, was like 20 years older than you and you were really young? So many questions...
Ana
I loved her! Sure, she could be an emotional wreck at times, but what do you expect from someone who was abused by the only person she knew and didn't know how to interact with others who might actually care for her.
Sam
I'm still a little weary about him, but I do like him. I guess I'm just not sure if he has some ulterior motive since he has been reincarnated hundreds of times and is totally accepting of Ana, who is a newsoul. I'm keeping an eye on him...
Li
Ana's abusive mother. I wish we had gotten to learn about her a bit more, but I doubt that that will happen with how the ending is.
Menehen
Ana's absent father. He leaves soon after it is found out that Ana is a newsoul. I wish we got to learn more about him too, but that might take a while.
Stef
She seems really nice, but I'm not too sure about her. I know that she's Sam's best friend, but she was also his lover at times, so I'm worried about how her and Ana's relationship might be like. I'm keeping my other eye on her...
Overall, I LOVED this book! It made me really think about religion, sex, and love. I haven't read a book like this before, so this was a great change! I really liked how this book pushed the limits, and didn't stay inside the safe little bubble of YA dystopian. I can't wait for the next book! I have no clue why I waited so long.