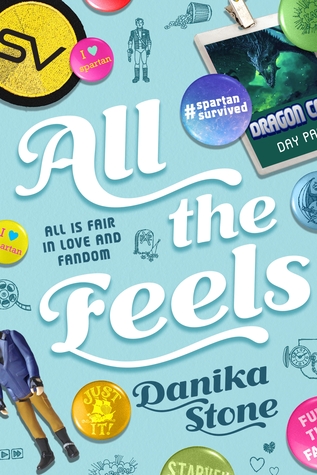 Title: "All the Feels"
Series: N/A
Author: Danika Stone
Website ~ Twitter ~ Facebook ~ YouTube ~ Pinterest ~ Tumblr
Published: June 7, 2016
Publisher: Swoon Reads
Genres: New Adult, Contemporary, Romance
Pages: 336
Format: ebook
Source: I received an ARC as a participant of this blog tour
Goodreads ~ Amazon ~ Barnes & Noble
College freshman Liv is more than just a fangirl: The Starveil movies are her life… So, when her favorite character, Captain Matt Spartan, is killed off at the end of the last movie, Liv Just. Can't. Deal.





Tired of sitting in her room sobbing, Liv decides to launch an online campaign to bring her beloved hero back to life. With the help of her best friend, Xander, actor and steampunk cosplayer extraordinaire, she creates #SpartanSurvived, a campaign to ignite the fandom. But as her online life succeeds beyond her wildest dreams, Liv is forced to balance that with the pressures of school, her mother's disapproval, and her (mostly nonexistent and entirely traumatic) romantic life. A trip to DragonCon with Xander might be exactly what she needs to figure out what she really wants.
I'm not much of a contemporary person and I haven't read much New Adult, but when I heard about All the Feels, I knew I had to read it. College, fandoms, and real world stress? Sign me up!
The book starts off with Liv, seeing the end of the last movie of her favorite franchise, completely traumatized by the terrible end. We've all been there, right? Whether it was a TV show, movie, book, comic, whatever, we know how ti feels to be totally disappointed by something that meant so much to you. But Liv decides to not sit back and wallow in her pity, she takes action. And she takes action by filming her own ending and trying to start a fandom revolution.
I related to Liv 100%. As a college student, there is a ton of stress. And as a fangirl, it's an obsession that takes up a lot of time. So combine those two, you're busy all the time. I've spent many nights getting little to no sleep because I was reading the next book in my favorite series, reading fanfiction of said series, interacting with other fangirls (and boys) online, and other things that related to those fangirl obsessions. And it's really hard because you're family doesn't understand why you'd rather talk to people you've never met in person, instead of interacting with those in the real world. They don't understand how much it means to you. And Danika Stone captured that really well.
I don't want to say too much about what happened, but I actually connected to this book on a pretty close level. It was nice to see an obsessed fangirl in a book, and it done in a pretty accurate way. See! We aren't crazy, just passionate!
Overall, this was a really cute contemporary that gave an in-depth look to the mind of a fangirl. I loved how it included different mediums, such as texts and tweets. I hope to find more fangirl (or boy) books in the future!
a Rafflecopter giveaway
Danika Stone is an author, artist, and educator who discovered a passion for writing fiction while in the throes of her Masters thesis. A self-declared bibliophile, Danika now writes novels for both adults (The Intaglio Series and Ctrl Z) and teens (All the Feels). When not writing, Danika can be found hiking in the Rockies, planning grand adventures, and spending far too much time online. She lives with her husband, three sons, and a houseful of imaginary characters in a windy corner of Alberta, Canada.



Ms. Stone is represented by Morty Mint of Mint Literary Agency.