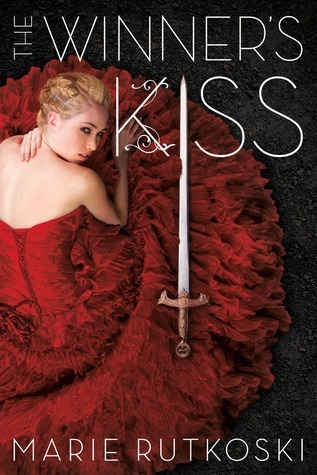 Title: "The Winner's Kiss"
Series: The Winner's Trilogy, #3
Author: Marie Rutkoski
Website ~ Blog ~ Twitter ~ Pinterest
Published: March 29, 2016
Publisher: Farrar, Straus, and Giroux (BYR)
Genres: Young Adult, Fantasy, Romance
Pages: 484
Format: Hardcover
Source: Bought
Goodreads ~ Amazon ~ Barnes & Noble
Some kisses come at a price.

War has begun. Arin is in the thick of it with untrustworthy new allies and the empire as his enemy. Though he has convinced himself that he no longer loves Kestrel, Arin hasn't forgotten her, or how she became exactly the kind of person he has always despised. She cared more for the empire than she did for the lives of innocent people—and certainly more than she did for him.

At least, that's what he thinks.

In the frozen north, Kestrel is a prisoner in a brutal work camp. As she searches desperately for a way to escape, she wishes Arin could know what she sacrificed for him. She wishes she could make the empire pay for what they've done to her.

But no one gets what they want just by wishing.

As the war intensifies, both Kestrel and Arin discover that the world is changing. The East is pitted against the West, and they are caught in between. With so much to lose, can anybody really win?
If you were like me, you were slamming your head against a wall after finishing The Winner's Crime. I couldn't tell if I was more angry or sad. I just stared at the last page and thought, "This is it? There isn't any more?" I might have let out a high pitched shriek and wallowed in my unhappiness for a while. About a whole year. And for that entire time I kept thinking about how if this ending was mean, what would the finale be like? But fortunately I was super happy with the ending, even if it was a roller coaster ride to get there.
The Winner's Kiss starts right after the ending of its predecessor. Kestrel is sent to a work camp in the frozen north, and Arin is trying to find allies to help him fight. However, neither one knows what the other is doing. They have their own misconceptions of how the meeting in Kestrel's piano room ended for the other. And while it didn't end the way either one expected, it turned out worse for Kestrel.
Kestrel's health and memory slowly deteriorate with her time at the work camp. The water is drugged, and she starts to become zombie-like just like all the other prisoners. Of course, being the type of person she is, she tries her best to keep herself together and escape, but begins to give up. However, she does manage to escape, and I absolutely loved that scene. But it what comes after is pretty sad, as Kestrel hardly remembers much of anything. Arin is doing whatever it takes to form a strong alliance with the East and to keep his people safe. You see just how desperate he is to do what he feels is right.
Both Kestrel and Arin go through a lot of development through this book, and they are definitely not the same people that they were in The Winner's Curse and The Winner's Crime, but in a good way. They realize just how far they will go to protect the people they love and what they truly want. Even though it hurt, I really liked seeing these characters broken down and having to build themselves back up. It proved how tough and resilient they are. I loved Roshar even more in this book, as he always provided some comic relief that was necessary. Kestrel's father does reappear, unsurprisingly, and he is still just as much of a jerk as he was before, unsurprisingly.
Overall, this was a stunning conclusion to the trilogy and was my favorite of the three, even though I loved them all. I was surprised by multiple events in the book, which I pleasantly enjoyed. And I was happy that it didn't take forever for the pair to be reunited, even if it wasn't in my preferred way. I'm so sad that this series is over now, but I can't wait to read what Marie Rutkoski writes next!