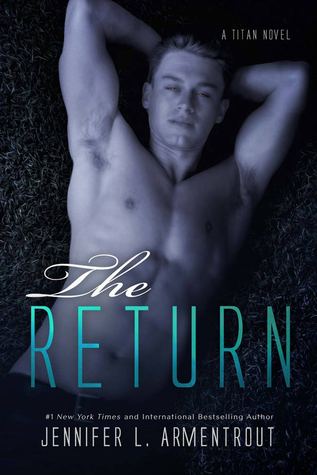 Title: "The Return"
Series: Titan, #1
Author: Jennifer L. Armentrout
Website ~ Blog ~ Twitter ~ Facebook
Published: February 16, 2015
Publisher: Spencer Hill Press
Genres: New Adult, Paranormal, Romance
Pages: 335
Format: Paperback
Source: MeL Cat
Goodreads ~ Amazon ~ Barnes & Noble
The Fates are cackling their bony asses off…





It's been a year since Seth made the deal with the gods that pledged his life to them. And so far, the jobs they've given him have been violent and bloody–which is kind of all right with him. But now Apollo has something else in mind for Seth. He's got to play protector while keeping his hands and fingers off, and for someone who really has a problem with restraint, this new assignment might be the most challenging yet.





Josie has no idea what this crazy hot guy's deal might be, but it's a good bet that his arrival means the new life she started after leaving home is about to be thrown into an Olympian-sized blender turned up to puree. Either Josie is going insane or a nightmare straight out of ancient myth is gunning for her.





But it might be the unlikely attraction simmering between her and the golden-eyed, secret-keeping Seth that may prove to be the most dangerous thing of all.





Because history has once again been flipped to repeat.





Book 1 in the new adult paranormal TITAN series, spin-off to the best selling COVENANT series.
Can I just say that with most of JLA's covers, I'm embarrassed to take them out in public. Like, it can be uncomfortable if your family sees the cover of a half-naked guy lying back on the cover. I always worry that they're going to see that and as if I'm reading porn or some 50 Shades of Grey knockoff. I know that she has no say in the cover, and it's sad that authors don't get that much of a voice, but can we please not have these super sexy pictures plastered on the cover, even if it is supposed to match the writing? OK, mini rant over.
I'll be honest and admit that I didn't love the Covenant series. I found there to be so many similarities between it and Vampire Academy that it was sometimes hard to ignore them. However, I did start to like it more towards the end, but it's not my favorite series by JLA. I will also admit that I was hesitant to read this series, as Seth was definitely not my favorite person in that series. Yet I decided to see if he could change my opinion of him by reading his spin-off book, and I will say that I like him a little bit more now, even if he is still a huge douche.
We start off about a year after Seth made a deal with Hades, the deal that essentially pledges his life to them. He's been off doing whatever the gods want him to do, which involves a lot of killing. As in the book starts off with him hunting down people. You can definitely say that this book and the Covenant series are probably JLA's most gory work. Seth finds out that he needs to track down some offspring of his least favorite god, Apollo, and he realizes it's going to be a lot harder than he though, as he's not very good with boundaries.
Josie, Apollo's daughter, is just trying to have a normal life. Her home life wasn't that great, but she's in college hoping to make things better... until some random hot guy tells her that she's the daughter of a mythological character. Yeah, totally not weird. Nonetheless, Josie adapts quickly to her new world, whether she wants to or not. And having a hot guy to be around makes things a little bit easier.
As I said before, this book made me like Seth a little bit more. You get to learn more about him and what his childhood was like. You also get to see the gods, mostly Apollo, in a slightly different light. I really liked Josie. She was tough as nails due to her upbringing, but still had a soft side. She had to learn fast when it came to being with Seth. She did a pretty good job at holding her own.
Overall, this was a really good companion book to the Covenant series. I loved the incorporation of new characters and see what adventures they and the old characters went on. I'm hoping to see more old characters in the sequels.