What's on My Radar highlights the releases for that month that I'm excited for and gives the opportunity to discuss what everyone is looking forward to.
July 5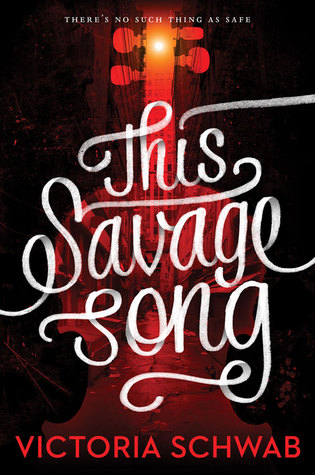 There's no such thing as safe in a city at war, a city overrun with monsters. In this dark urban fantasy from author Victoria Schwab, a young woman and a young man must choose whether to become heroes or villains—and friends or enemies—with the future of their home at stake. The first of two books.



Kate Harker and August Flynn are the heirs to a divided city—a city where the violence has begun to breed actual monsters. All Kate wants is to be as ruthless as her father, who lets the monsters roam free and makes the humans pay for his protection. All August wants is to be human, as good-hearted as his own father, to play a bigger role in protecting the innocent—but he's one of the monsters. One who can steal a soul with a simple strain of music. When the chance arises to keep an eye on Kate, who's just been kicked out of her sixth boarding school and returned home, August jumps at it. But Kate discovers August's secret, and after a failed assassination attempt the pair must flee for their lives.
July 12
June, Bette, and Gigi have given their all to dance at Manhattan's most elite ballet school. Now they are competing one final time for a spot at the prestigious American Ballet Company. With the stakes higher than ever, these girls have everything to lose…and no one is playing nice.





June is starting to finally see herself as a prima ballerina. However, getting what she wants might cost her everything—including the only boy she's ever loved. Legacy dancer Bette is determined to clear her name after she was suspended and accused of hurting her rival, Gigi. Even if she returns, though, will she ever regain the spotlight she craves? And Gigi is not going to let Bette—or the other dancers who bullied her—go unpunished. But as revenge consumes her, Gigi may be the one who pays the price.





After years of grueling auditions, torn ribbons, and broken hearts, it all comes down to this last dance. Who will make the cut? And who will lose her dream forever?
Long live Solaris.





One bloodthirsty ruler has been overthrown by another, casting the shadow of death over the Solaris Empire. Vhalla Yarl stands upon the stage of fate, prepared to do battle one final time. Fragile alliances will be tested and new bonds will be formed as the world is reshaped. She fights as the champion of peace, but when the night is darkest will she be able to pay the price of a new dawn?
July 19
Seventeen-year-old Bo has always had delusions that he can travel through time. When he was ten, Bo claimed to have witnessed the Titanic hit an iceberg, and at fifteen, he found himself on a Civil War battlefield, horrified by the bodies surrounding him. So when his concerned parents send him to a school for troubled youth, Bo assumes he knows the truth: that he's actually attending Berkshire Academy, a school for kids who, like Bo, have "superpowers."





At Berkshire, Bo falls in love with Sofia, a quiet girl with a tragic past and the superpower of invisibility. Sofia helps Bo open up in a way he never has before. In turn, Bo provides comfort to Sofia, who lost her mother and two sisters at a very young age.





But even the strength of their love isn't enough to help Sofia escape her deep depression. After she commits suicide, Bo is convinced that she's not actually dead. He believes that she's stuck somewhere in time — that he somehow left her in the past, and now it's his job to save her

.
Torn between duty and survival, nothing can be the same.





Everything Ivy Morgan thought she knew has been turned on its head. After being betrayed and then nearly killed by the Prince of the Fae, she's left bruised and devastated—and with an earth-shattering secret that she must keep at all costs. And if the Order finds out her secret, they'll kill her.





Then there's Ren Owens, the sexy, tattooed Elite member of the Order who has been sharing Ivy's bed and claiming her heart. Their chemistry is smoking hot, but Ivy knows that Ren has always valued his duty to the Order above all else—he could never touch her if he knew the truth. That is, if he let her live at all. Yet how can she live with herself if she lies to him?





But as the Fae Prince begins to close in on Ivy, intent on permanently opening the gates to the Otherworld, Ivy is running out of options. If she doesn't figure out who she can trust—and fast—it's not only her heart that will be torn apart, but civilization itself.
July 31
Based on an original new story by J.K. Rowling, Jack Thorne and John Tiffany, Harry Potter and the Cursed Child, a new play by Jack Thorne, is the first official Harry Potter story to be presented on stage. It will receive its world premiere in London's West End on 30th July 2016



It was always difficult being Harry Potter and it isn't much easier now that he is an overworked employee of the Ministry of Magic, a husband, and father of three school-age children.





While Harry grapples with a past that refuses to stay where it belongs, his youngest son Albus must struggle with the weight of a family legacy he never wanted. As past and present fuse ominously, both father and son learn the uncomfortable truth: sometimes darkness comes from unexpected places.
I haven't read the book that comes before Shiny Broken Things, but I just heard about it recently and since it's a book about ballerinas, I HAVE to read it. I need to catch up on the Air Awakens series so I can't read the finale. I'm excited to try Beth Revis's contemporary, as it's a genre I'm slowly easing into. I'm super nervous for Torn, especially with how Wicked ended. And OF COURSE I need Harry Potter and the Cursed Child!
How many of these have you read already?

What are you looking forward to in July?