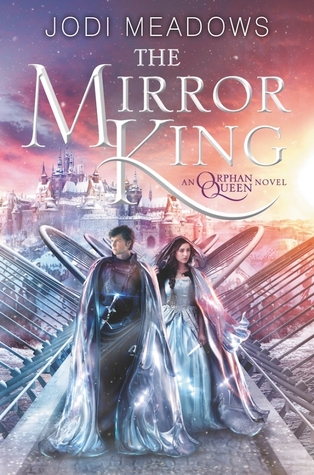 Title: "The Mirror King"
Series: The Orphan Queen, #2
Author: Jodi Meadows
Website

~

Twitter

~

Facebook

~

Tumblr

~

Pinterest
Published: April 5, 2016
Publisher: Katherine Tegen Books
Genres: Young Adult, Fantasy, Adventure
Pages: 531
Format: Hardcover
Source: Bought
Goodreads ~ Amazon ~ Barnes & Noble
Wilhelmina has a hundred enemies.





HER FRIENDS HAVE TURNED. After her identity is revealed during the Inundation, Princess Wilhelmina is kept prisoner by the Indigo Kingdom, with the Ospreys lost somewhere in the devastated city. When the Ospreys' leader emerges at the worst possible moment, leaving Wil's biggest ally on his deathbed, she must become Black Knife to set things right.





HER MAGIC IS UNCONTROLLABLE. Wil's power is to animate, not to give true life, but in the wraithland she commanded a cloud of wraith mist to save herself, and later ordered it solid. Now there is a living boy made of wraith—destructive and deadly, and willing to do anything for her.





HER HEART IS TORN. Though she's ready for her crown, declaring herself queen means war. Caught between what she wants and what is right, Wilhelmina realizes the throne might not even matter. Everyone thought the wraith was years off, but already it's destroying Indigo Kingdom villages. If she can't protect both kingdoms, soon there won't be a land to rule.





In this stunning conclusion to THE ORPHAN QUEEN, Jodi Meadows follows Wilhelmina's breathtaking and brave journey from orphaned criminal on the streets to magic-wielding queen.
After the ending of The Orphan Queen, I didn't think I'd survive a year to know how everything ends (just like everyone else who read it). But I managed to make it through to year to read the even more emotional and dramatic sequel with minor emotional trauma. Minor as in even though my heart still aches over the sad stuff, I'm still able to function. 😜
The Mirror King starts right off where its predecessor ended. Tobiah has been attacked, Wil's identity is revealed, and half of her friends have disappeared. Despite having (very few) allies, she feels completely alone and is unsure as to what to do. To keep herself busy and to protect the people, she becomes Black Knife, and she realizes that the wraith is getting stronger and stronger, far faster than anyone anticipated. And to top it all off, she has a wraith boy she unwittingly created and must learn his power and how to control him, if it is even possible at all.
The focus of the book is really the fight within Wil between her head and her heart. She knows what she wants to do, but she also knows that it is not what she should do. She wants to reclaim her throne, but she can't do so as it will cause conflict with Prince Colin, Tobiah's uncle and current ruler of Aecor. The same goes with the conflict between her and Tobiah: they both care about each other, but they have their own duties. Wil has so many insecurities and they make sense, but it's still heartbreaking to see her doubt herself so much. I just wanted to tell her that everything would be okay. However, even with all of this self-doubt, Wil still grows and becomes stronger throughout the course of the book.
Tobiah also changes, even though I wanted to smack him most of the time. How one boy can be so dense just amazes me sometimes. Fortunately, even though it seems to take forever, he does realize what he needs to do to fix things. He comes to terms with the choices that he's made in the past and what he needs to do now to fix them. However, it doesn't make up for the fact that I was mad at him most of the time.
The plot moved pretty quickly, with some sort of twist happening in every chapter. Sometimes constant twists and turns seem contrived and unlikely, but with everything that was happening here, it seemed pretty likely. The characters could never get to comfortable with what was going on, and had to constantly be on their toes. But overall, I did like the majority of the twists and turns that occurred, even if they sometimes hurt.
Overall, this was an incredible ending to a great duology. The Orphan Queen worked as a great beginning for the dramatic conclusion to play out in a fully developed world and plot. I'm sad to see this story already completed, but I can't wait to see what Jodi Meadows writes next!