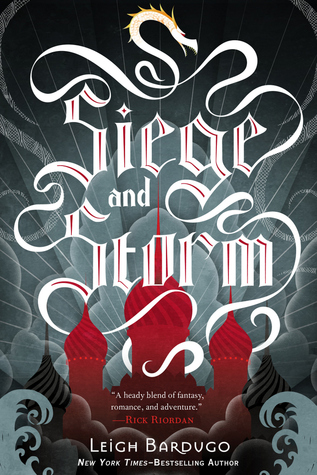 Title: "Siege and Storm"
Series:
The Grisha, #2
Author: Leigh Bardugo
Website ~ Twitter ~ Facebook ~ Tumblr ~ Instagram
Published: June 4, 2013
Publisher: Henry Holt and Co.
Genres: Young Adult, Fantasy, Adventure
Pages: 435
Format: Hardcover
Source: Library
Goodreads ~ Amazon ~ Barnes & Noble
Darkness never dies.

Hunted across the True Sea, haunted by the lives she took on the Fold, Alina must try to make a life with Mal in an unfamiliar land. She finds starting new is not easy while keeping her identity as the Sun Summoner a secret. She can't outrun her past or her destiny for long.

The Darkling has emerged from the Shadow Fold with a terrifying new power and a dangerous plan that will test the very boundaries of the natural world. With the help of a notorious privateer, Alina returns to the country she abandoned, determined to fight the forces gathering against Ravka. But as her power grows, Alina slips deeper into the Darkling's game of forbidden magic, and farther away from Mal. Somehow, she will have to choose between her country, her power, and the love she always thought would guide her--or risk losing everything to the oncoming storm.
Starting where Alina and Mal escaped the Darkling, they traveled across the sea and try to start a new life in a strange country. However, they suck at hiding because they are captured by the Darkling almost instantly. C'mon Mal. You're supposed to be an amazing tracker, shouldn't you know who to not be tracked? See? You're useless and stupid. So after being attacked by the Darkling's shadow soldier monsters, the Nichevo'ya, the pair awake on a ship, manned by the privateer Sturnhound. Even though Sturmhound is hired by the Darkling, he has his own plans for Alina.
Morozova has three amplifiers, and Alina already has one. So the main focus of this book is finding the next amplifier: the sea whip. This is really the drive of the book. No one knows what could happen to Alina is she gets the second amplifier, let alone the second. All they know is that she will become more powerful, but it is unknown if the increased power could change her, just like power has changed the Darkling.
During the book, Alina becomes even more strong and independent. She went through incredible character book in the previous book, and continues to grow. After feeling the effects of Morozova's collar, which the Darkling forced on her, she realizes that she wants power. And she's willing to go on a dangerous journey to find it. She knows what she's capable of, especially after seeing all that the Darkling, her counterpart can do. This drive causes a rift between her and Mal, who doesn't fit in the Grisha world. He still loves her, yet he fears what she could become, and in some ways, her.
Sturmhound is not who he appears to be. Surrounded by Grisha working for him, he hides many secrets. And when he does tell the truth, it's only when it's most convenient for him. We meet a couple other character, primarily Tolya and Tamar, twins who work for Sturmhound. They're incredibly devoted to their boss and Alina, and risk they're lives multiple times to save her. They actually seem to care more about Alina's safety and well-being than Mal. Hmmm. See, Mal? You're a terrible love interest. Now go away.
The ending is immensely surprising, and pretty sad. Terrible things happen, things that could have been prevented in the first place. I guess it proves what lengths people will go to to seek approval. Even though it is a very tragic ending, it definitely sets up a great third book where I'll certainly be at the edge of my seat the entire time!
Overall, this book was a great sequel to Shadow and Bone. The world-building is continued, as we see new countries and cities, characters continue to grow, and we meet some new important characters who stand out! While I continued to extremely dislike some characters *cough* Mal *cough*, I continued to love others and watch them grow throughout the book. I can already tell the third book will be incredibly intense!