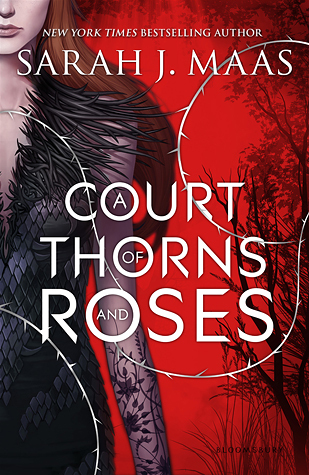 Title: "A Court of Thorns and Roses"
Series: A Court of Thorns and Roses, #1
Author: Sarah J. Maas
Website ~ Blog ~Twitter ~ Facebook ~ Pinterest ~ Tumblr
Published: May 5, 2015
Publisher: Bloomsbury Children's
Genres: Young Adult, Fantasy, Retelling
Pages: 416
Format: Hardcover
Source: Library
Goodreads ~ Amazon ~ Barnes & Noble
A thrilling, seductive new series from New York Times bestselling author Sarah J. Maas, blending Beauty and the Beast with faerie lore.

When nineteen-year-old huntress Feyre kills a wolf in the woods, a beast-like creature arrives to demand retribution for it. Dragged to a treacherous magical land she only knows about from legends, Feyre discovers that her captor is not an animal, but Tamlin—one of the lethal, immortal faeries who once ruled their world.

As she dwells on his estate, her feelings for Tamlin transform from icy hostility into a fiery passion that burns through every lie and warning she's been told about the beautiful, dangerous world of the Fae. But an ancient, wicked shadow grows over the faerie lands, and Feyre must find a way to stop it... or doom Tamlin—and his world—forever.

Perfect for fans of Kristin Cashore and George R. R. Martin, this first book in a sexy and action-packed new series is impossible to put down!
When I found out that Sarah J. Maas was writing another fairy tale retelling, I was beyond excited. I thought it was so cool that she was combining elements from three different stories: Beauty and the Beast, Tam Lin, and East of the Sun, West of the Moon. We all know Beauty and the Beast, especially the Disney version (That library though!), Tam Lin is a new one to me, but I was even more excited to see East of the Sun, West of the Moon. Arguably my favorite fairy tale. I'm a bit biased since it's a Norse fairy tale, but I also love it because the girl isn't a princess, and she has to save the prince. So the roles are essentially reversed! It's sad that there are so few retellings though.
Anyways... enough of my rambling.
When Feyre, a young huntress, unknowingly kills a fae, she must pay for her actions by living the rest of her life as a captive of Tamlin, a high fae. Even though there are truths to the stories she's been told about the fae, she realizes that not all of them are true, and her feelings towards fae, and Tamlin, change. And during her time with Tamlin, she realizes that the fae might need her to save them all.
Just like with ToG the writing was fantastic. The world-building was amazing. Everything was so descriptive and beautiful. There were many twists and turns in the plot, especially towards the end. Even though there were multiple things that I expected, I was surprised most of the time. The characters' actions made me want to smile, cry, strangle them, or laugh, depending on the situation, but no matter what it always made me wanting more.
I found the fae to be so interesting, but then again I do have a soft spot for them. There are multiple courts, and all of them are quite different. The courts that we see the most of are Spring, Autumn, and Night, and they are all very unique. It was interesting seeing all of them interact. I assumed that they would get along to a certain extent, but they tended to argue, especially Spring and Winter, as they have different morals and opinions of humans. Of what I've seen of the fae here and of the fae in ToG, I can tell that they're likely going to be different.
Going into the book, I expected Feyre to be more cold-hearted. It sounded like she was supposed to be a cold-blooded huntress, but that didn't seem to be the case most of the time. Sure, she didn't feel too much remorse for killing the fae, and she didn't have a very high opinion of fae at all, but she seemed to warm up to them relatively quickly. Tamlin, the high fae, was, like many other Maas men, swoon-worthy. He had a great mixture of strength and sweetness. One moment he'd be killing some other fae, and the next he'd be having a sweet moment with Feyre. His best friend, Lucien, was the funny one, and was always able to lighten up a situation when things got tense, which happened a lot. It was obvious that he cared about Feyre, since Tamlin did. And then there's Rhysand. The token bad boy. There was never a dull moment with him. And even though he wasn't exactly good, there were reasons behind his actions.
As with ToG, it's fascinating to see how Sarah J. Maas takes a classic fairy tale and spins it into her own. She took elements from these different stories: Feyre having to save Tamlin and things that go with it (I won't spoil it) come from East of the Sun, West of the Moon and Feyre having to be Tamlin's captive and save him come from Beauty and the Beast. I don't know of any elements that come from Tam Lin, other than the name, so I'll have to check the fairy tale out one day!
I think that for this book, Sarah J. Maas wanted to be a bit more adult, or at least that's the vibe I got from this book. However, I felt that it was still young adult. The only differences were that the characters in this book were older than those from ToG and that the topic of sex was a bit more open. Even though the characters were more open with sex, whether it be actually having or just talking about it, it was still relatively tame. Nothing was that explicit. Especially compared to other books that I've read, and I've read a YA book that was more explicit when two characters were having sex. It'll be interesting to see if this is any different in the sequel.
Overall, Sarah J. Maas took another fairy tale (or three) and spun it into her own gorgeous, unique story of her own yet again! She's created yet another fantastic world full of interesting characters. There were so many twists and turns that kept me wanting more. While everything ended nicely, there are still plenty of loose ends that need to be tied, and I can't wait to see how they end in the sequel!