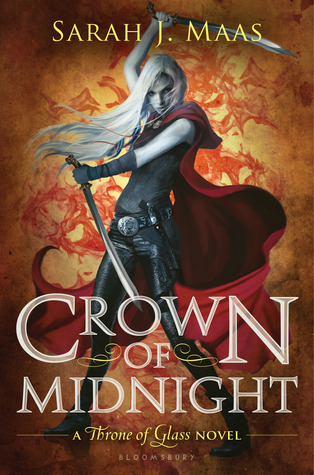 Title: "Crown of Midnight"
Series: Throne of Glass, #2
Author: Sarah J. Maas
Website ~ Blog ~Twitter ~ Facebook ~ Pinterest ~ Tumblr
Published: August 15, 2013
Publisher: Bloomsbury USA Childrens
Genres: Young Adult, Fantasy, Magic
Pages: 418
Format: Hardcover
Source: Library
Goodreads ~ Amazon ~ Barnes & Noble
"A line that should never be crossed is about to be breached.
It puts this entire castle in jeopardy—and the life of your friend."


From the throne of glass rules a king with a fist of iron and a soul as black as pitch. Assassin Celaena Sardothien won a brutal contest to become his Champion. Yet Celaena is far from loyal to the crown. She hides her secret vigilantly; she knows that the man she serves is bent on evil.

Keeping up the deadly charade becomes increasingly difficult when Celaena realizes she is not the only one seeking justice. As she tries to untangle the mysteries buried deep within the glass castle, her closest relationships suffer. It seems no one is above questioning her allegiances—not the Crown Prince Dorian; not Chaol, the Captain of the Guard; not even her best friend, Nehemia, a foreign princess with a rebel heart.

Then one terrible night, the secrets they have all been keeping lead to an unspeakable tragedy. As Celaena's world shatters, she will be forced to give up the very thing most precious to her and decide once and for all where her true loyalties lie... and whom she is ultimately willing to fight for.
After Throne of Glass, which sets up a fantastic world full of magic and deceit, Crown of Midnight continues the story beautifully and absolutely keeps you guessing the entire ride.
Following becoming the King's Champion, Celaena must now work as his assassin until she can finally get her freedom at last. And things are definitely NOT going to be smooth sailing from now to then. The King wants her to kill anyone he tells her to kill, but when he wants her to murder someone from her past, she becomes unsure of everyone. He, and other nobles, is also hiding a dark secret within the castle, and only Celaena, with the help of one of her ancestors, Elena, can unearth.
I was Team Chaol from the beginning, and even though this is a mild spoiler, almost everyone knows that Chaol and Celaena get together in CoM. It didn't surprise me in the least. I expected it, but that was also because I wanted it to happen. It's just great to see the love triangle ended now. I'd hate to see it carry on through all six books. You see Celaena truly happy, and it's amazing to see that. She now has Chaol, Dorian, and Nehemia in her life and you can tell that this is the happiest she's been in a long time.
But life doesn't stay happy for long. Celaena feels betrayed by those around her, and she essentially goes crazy and immediately gets revenge. She feels hurt and alone. Relationships with people are ruined due to some of these events.
After all of this crazy, a lot of important information about Celaena's past becomes known, and that change her relationship with those around her. The ending is heartbreaking, and so many great things that happen in this book are essentially undone. My heart broke into tiny pieces and blew away in the wind at the very end.
Celaena
You become so happy, and then it's all ruined. But she's badass, so I know that she'll be OK in the end.
Chaol
My sweet, sweet Chaol. Even though I love you, I did want to give you a good smacking a few times.
Dorian
Eh, you're OK. Maybe I'll like you one day.
Nehemia
Can you please be my best friend. She's a BAMF.
Overall, this book filled my heart with happiness and joy, only to stomp all over it in the end. Everything that happened was so amazing and it kept me at the edge of my seat for the entire ride. There were so many surprises that I didn't know what would happen next! All I can do is hope that my heart can be mending in book three!