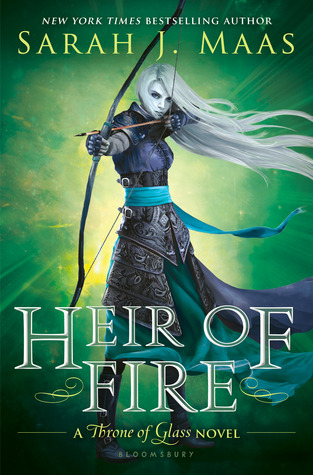 Title: "Heir of Fire"
Series: Throne of Glass, #3
Author: Sarah J. Maas
Website ~ Blog ~Twitter ~ Facebook ~ Pinterest ~ Tumblr
Published: September 2, 2014
Publisher: Bloomsbury USA Childrens
Genres: Young Adult, Fantasy, Magic
Pages: 562
Format: Hardcover
Source: Library
Goodreads ~ Amazon ~ Barnes & Noble
She was the heir of ash and fire, and she would bow to no one.


Celaena Sardothien has survived deadly contests and shattering heartbreak—but at an unspeakable cost. Now she must travel to a new land to confront her darkest truth...a truth about her heritage that could change her life—and her future—forever.

Meanwhile, brutal and monstrous forces are gathering on the horizon, intent on enslaving her world. To defeat them, Celaena must find the strength to not only fight her inner demons but to battle the evil that is about to be unleashed.

The king's assassin takes on an even greater destiny and burns brighter than ever before in this follow-up to the

New York Times

bestselling

Crown of Midnight

.
After Crown of Midnight, I didn't think that things could get anymore intense and heartbreaking. But I was wrong. So wrong. It wasn't the romance that was heartbreaking, it was really just all of these characters' stories and how they all experience so much pain during this entire book.
Things start off with Celaena in Wendlyn, moping and fighting. She's supposed to kill the royal family there, but she realizes that she can't. She's broken and vulnerable, but most of all, she feels alone. Suddenly, Celaena's fae queen aunt, Maeve, wants to meet her, so she sends Rowan Whitehorn, a fae warrior prince, to collect her and teach her to control her magic.
Meanwhile, back in Adarlan, things between Dorian and Chaol are tense. Dorian is trying to conceal his magic and discover the secrets that his father is hiding. Chaol is trying to come to terms with who Celaena really is. He's having trouble accepting magic, and it doesn't help that Dorian has it too. Chaol eventually redeems himself, but it takes a while.
Throughout the book, we meet multiple new characters, the most important being Rowan, Sorscha, Aedion, and Manon. Rowan is the fae prince that helps train Celaena. Sorscha is a healer who has been helping Dorian with his magic. Aedion is the King's Northern General and Celaena's cousin. Even though he works for the King, it doesn't mean that he is loyal. And, finally, Manon, who's the heir to the Blackbeak Ironwitch clan and her story is distantly connected to Celaena.
I thought that there were a lot of point of views already in the previous books, but there were even more this time around. I was worried that I would have trouble keeping everyone straight, but I was able to keep everything straight. I think that it was mostly because each character is so different, thus each perspective is unique to each individual. It was fascinating to see events happen through different characters' eyes.
With everything that happens when Celaena is in Wendlyn, it is pretty obvious that we would learn more about her past. We learn more about her abilities and her heritage. It's all so fascinating and sad, especially when it comes to her family. And it doesn't help that we're given even more reasons to dislike the King. We're not supposed to like him already, but now we have reasons to hate him to death.
Celaena
I loved her growth in this book. In the first too books she tends to be a bit over-confident and so sure of herself, in this book she starts off broken and has to build herself back up. Her pain was so easy to feel, and I felt it the entire way through.
Chaol
I used to love you so much, but you just hurt me so much. Yeah, you do get a little better, but you still hurt me. Go sit in the corner and think about what you've done.
Dorian
I actually started to like him in this book. Maybe it's because of everything that he was going through just hurt my heart, but I like him more than Chaol right now.
Rowan
Not sure how I feel about him. I don't like the idea of him being a possible new love interest. He's a super old immortal fae. I just don't see how it could work out.
Overall, this book was even more heartbreaking than its predecessor. It's like it heard me say that things couldn't get any more painful and said, "Oh, really? I think things can get MUCH more painful." All I can do is hope that things get better at the very end of the series, as I know that Sarah J. Maas loves to put us through pain and I don't see it ending anytime soon.