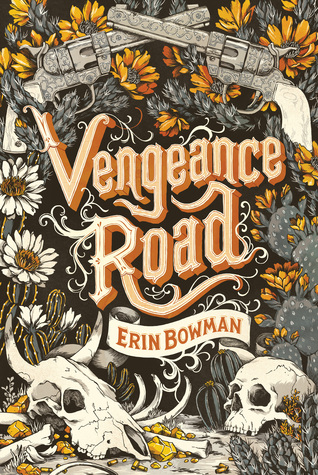 Title: "Vengeance Road"
Series: NA
Author: Erin Bowman
Website ~ Blog ~ Twitter ~ Tumblr ~ Pinterest ~YouTube ~ Instagram
Published: September 1, 2015
Publisher: HMH for Young Readers
Genres: Young Adult, Western, Adventure
Pages: 336
Format: Hardcover
Source: Bought
Goodreads ~ Amazon ~ Barnes & Noble
When Kate Thompson's father is killed by the notorious Rose Riders for a mysterious journal that reveals the secret location of a gold mine, the eighteen-year-old disguises herself as a boy and takes to the gritty plains looking for answers and justice. What she finds are devious strangers, dust storms, and a pair of brothers who refuse to quit riding in her shadow. But as Kate gets closer to the secrets about her family, she gets closer to the truth about herself and must decide if there's room for love in a heart so full of hate.

In the spirit of

True Grit

, the cutthroat days of the Wild West come to life for a new generation.
I never thought that I'd read a Western novel, but I guess I was wrong. After hearing so many great things about this book, I decided to preorder it and I'm so happy that I did. It exceeded my expectations and has made me want to read more of this genre.
When Kate finds that her father has been murdered, she decides to go after the gang that killed him to seek revenge. On her way to find the gang, she is joined by her father's friend's sons, who have their own reasons for joining her. During her journey, she realizes that her father has been hiding many secrets, and that even though he had his reasons, they are now coming after Kate.
Kate is an incredibly strong character. She refuses to be helped by anyone, however, this can also be a fault of hers. When Jesse and Will, the sons of the man her father told her to find if anything happened to him, decide to tag along, Kate wants them to leave. Not just because she thinks she can handle the Rose Riders on her own, which she probably wouldn't be able to do, but because she knows that they have a family that needs to be taken care of. Underneath her prickly exterior, she is compassionate, even though she tries to hide it. She does experience a lot of growth throughout the book, like accepting help from others and letting them in too.
The two main male characters are also great. Jesse, the older brother, is the one more determined to join Kate, but not to help her. He has his own reasons. He later becomes nicer and more willing to help Kate, and not just himself and his family. Will, the younger brother, while unhappy to be tagging along, is the nicer of the too. He gets along well with Kate, but only to a certain extent, as he's more worried about Jesse.
These three characters go through an amazing journey full with twist and turns and unexpected findings across the 1800s Arizona Territory, a location that's very new to me. I loved the descriptions of the desert and the mountains, as it's something I don't know that much about. I also felt that the characters were very fitting with the setting, especially their dialect and behavior. Even though it was sad to see the characters' rasict remarks about Native Americans, it really was fitting for the time, but the characters do realize that they're wrong to treat them so disrespectfully.
Kate
Great, badass main character. I would NOT want to get on her bad side! I know I certainly wouldn't last long against her! As I said before, I loved how she grow during the book.
Jesse
He's not exactly the meaner of the two, but I guess determined would be the best word for it. He does become nicer towards the end of the book, which was great to see.
Will
He's reluctant to join, but he gets along with Kate better than Jesse does. Even though he tends to be the more laid-back of the two, he does worry about his older brother.
Overall, this book as a great surprise! I didn't think I'd love it as much as I did. This book has definitely made me more open to Westerns and I can't want to read more from this genre! I also can't wait to read Erin Bowman's other books.