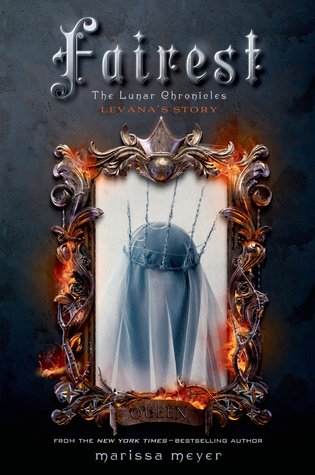 Title: "Fairest"
Series: The Lunar Chronicles, #3.5
Author: Marissa Meyer
Published: January 27, 2015
Publisher: Feiwel & Friends
Genres: Young Adult, Fantasy, Science Fiction
Pages: 220
Format: Hardcover
Source: Library
Goodreads ~ Amazon ~ Barnes & Noble
In this stunning bridge book between

Cress

and

Winter

in the bestselling Lunar Chronicles, Queen Levana's story is finally told.



Mirror, mirror on the wall,




Who is the fairest of them all?



Fans of the Lunar Chronicles know Queen Levana as a ruler who uses her "glamour" to gain power. But long before she crossed paths with Cinder, Scarlet, and Cress, Levana lived a very different story – a story that has never been told . . . until now.

Marissa Meyer spins yet another unforgettable tale about love and war, deceit and death. This extraordinary book includes full-color art and an excerpt from

Winter

, the next book in the Lunar Chronicles series.
We all know just how insane Levana is, but from the very beginning I've always wondered how she got to be so crazy. Something must have happened to her, and in her story, we find out about all the horrific things that happened to her and all the strange things that she's done in her life.
The story starts off with Levana as a young teen, using her glamour to hide her deformities from an accident she had at a young age. She's incredibly quite and lacks self-confidence, however, deep down, she's incredibly cruel. All she really thinks about is what she wants and how to get it and how to hurt those she wants to hurt. In ways, you can't help but pity her. Maybe she's just so insane because of the lack of love and affection. Or maybe she's this crazy because she simply is crazy. Perhaps there is no good in her. As the years progress, you see how her actions cause the events that precede and occur during the previous books in the series.
During the book, we also learn about how terrible Channery, Cinder's mother and Levana's sister, is. We know that Channery is not exactly a nice person when other characters talk about her in books #1-3, but we get a first hand account as to how she really is. And let me just say, she is incredibly ruthless and vicious. She's cold and uncaring, unafraid to insult and hurt her little sister. It's strange though, how we see her interact with Cinder, or Selene as she was born.
While reading, and after, I couldn't help but see some similarities between Levana and Cinder. They went through similar experiences at a young age and were hurt by someone who should have cared about them. However, they're so different because, not only of how they were raised, but by their personalities in general. Levana is spiteful and will do anything to get what she wants, whereas Cinder feels alone and helpless and never really wanted to hurt others for her own gain. She might have resented and maybe even hated those who hurt her, but she never actively sought out revenge.
I also want to add how I loved all the little Easter eggs in the story. All of the references to people and their appearances were great. I know that some of them were needed for the plot, but I couldn't help but smile when someone from another book was referenced. We even get to see some of the characters at a very young age, which was so cute.
Levana
I must say, I think she is one of my new favorite literary villains. She's just so complex and has so many layers. Deep, deep down, underneath her insane, glamoured exterior, I think she's still the confidence-lacking young girl she used to be.
Channery
I wish we got to know a little bit more about her. Maybe more of her will be revealed in Winter, as I'd love to know about her story from before Fairest. I want to know if she was always so vicious and uncaring. I think she'd be great to learn more about since she's kind of the mother of the main character of the series.
Overall, this was an amazing novella for the series. It gives background information that the novels don't give. Without this book, you really wouldn't know all that much about the series antagonist. She's extremely complex with all of her savageness and weaknesses. I can't wait to see what happens to her in the series finale, and if we'll see yet another side of her.