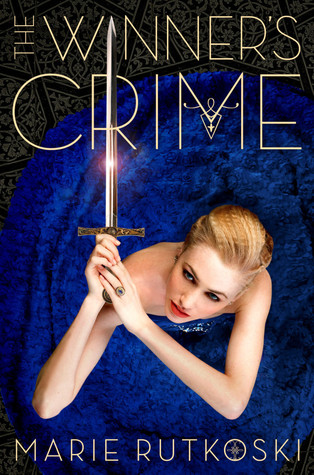 Title: "The Winner's Crime"
Series: The Winner's Trilogy, #1
Author: Marie Rutkoski
Website ~ Blog ~ Twitter ~ Pinterest
Published: March 3, 2015
Publisher: Farrar, Straus and Giroux (BYR)
Genres:
Young Adult, Fantasy, Dystopia
Pages: 402
Format: Hardcover
Source: Library
Goodreads ~ Amazon ~ Barnes & Noble
Following your heart can be a crime



A royal wedding means one celebration after another: balls, fireworks, and revelry until dawn. But to Kestrel it means living in a cage of her own making. As the wedding approaches, she aches to tell Arin the truth about her engagement: that she agreed to marry the crown prince in exchange for Arin's freedom. But can Kestrel trust Arin? Can she even trust herself?





Kestrel is becoming very good at deception. she's working as a spy in the court. If caught, she'll be exposed as a traitor to her country. Yet she can't help searching for a way to change her ruthless world...and she is close to uncovering a shocking secret.





This dazzling follow-up to The Winner's Curse reveals the high price of dangerous lies and untrustworthy alliances. The truth will come out, and when it does, Kestrel and Arin will learn just how much their crimes will cost them.
Just when I thought that everything was OK, again, everything fell apart and my heart broke into pieces. I knew that the sequel would be even more painful for me, but I didn't think it'd be this bad.
The Winner's Crime starts soon after where The Winner's Curse ended. Kestrel is engaged to the emperor's son and Arin is helping to lead the revolution is Herran. Both are doing what they think they need to do; Kestrel is trying to help the Herrani after what the Valorians did to them years ago, and Arin is trying to help free his people from the Valorians. They're both trying to do what is right, but the other doesn't know everything about what they are doing. Neither are completely honest, especially Kestrel, which leads to many, heartbreaking, misunderstandings and terrible consequences.
Kestrel plays the role of the fiancee who has a talent for war strategy. However, she tries to do so in a way that she can play the role, but not hurt the Herrani too much, but not make herself look too suspicious. She wants the emperor to trust her, so she knows that helping the Herrani will be hard. Sadly, Arin is in the dark, so he believes that she's become heartless just like so many other Valorians. Because Arin thinks that Kestrel is now the enemy, he goes to the Dacra, another enemy country, to form an alliance.
We meet a couple of new, important characters. First there's Verex, the emperor's son. He and Kestrel initially don't get along, especially since Verex is not interested in war. However, they do become friends and help each other after Kestrel helps him in a war strategy game. The other character is Risha, who, despite being a small character, I can tell will be important in the next book.
We see the general, Kestrel's father, a little bit more in this book. There's a beautiful moment between him and Kestrel that was amazing to see, since they don't have a very good relationship. However, it doesn't last long, but their relationship gets a little bit better. But then the ending happens when you want to kill him.
Even with all the lies between Arin and Kestrel, there are actually quite a few touching, emotional moments between them. It's so beautiful, but it really just makes everything more painful in the end. During the entire book, all I wanted to do was just smoosh them together and make everything happy. Is that too much to ask.
That ending. THAT ENDING.
That was literally my reaction when I finished it. I'll also admit to letting out a very unhappy shriek.
Overall, the sequel is even better and more painful that the first book. The world-building is continued as we meet new people and see a new country. Kestrel and Arin are beautiful and stupid for not being honest with each other. With that ending, I'm terrified yet excited to see what the sequel will bring!