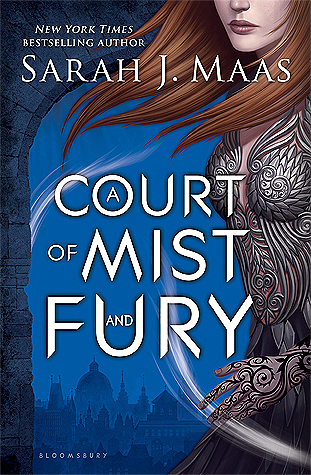 Title: "A Court of Mist and Fury"
Series: A Court of Thorns and Roses, #2
Author: Sarah J. Maas
Website ~ Blog ~Twitter ~ Facebook ~ Pinterest ~ Tumblr
Published: May 3, 2016
Publisher: Bloomsbury
Genres: New Adult, Fantasy, Adventure
Pages: 640
Format: Hardcover
Source: Bought
Goodreads ~ Amazon ~ Barnes & Noble
Feyre survived Amarantha's clutches to return to the Spring Court--but at a steep cost. Though she now has the powers of the High Fae, her heart remains human, and it can't forget the terrible deeds she performed to save Tamlin's people.





Nor has Feyre forgotten her bargain with Rhysand, High Lord of the feared Night Court. As Feyre navigates its dark web of politics, passion, and dazzling power, a greater evil looms--and she might be key to stopping it. But only if she can harness her harrowing gifts, heal her fractured soul, and decide how she wishes to shape her future--and the future of a world cleaved in two.





With more than a million copies sold of her beloved Throne of Glass series, Sarah J. Maas's masterful storytelling brings this second book in her seductive and action-packed series to new heights.
I'm staring at my laptop screen, trying to figure out how to start this review. And honestly, I have no clue. It was so fantastic and heartbreaking and unexpected. So many opinions that I had during and after finishing ACOTAR were totally changed. Some of it heartbreaking, some of it beautiful. And that's probably the best way to describe it: heartbreakingly beautiful.
Things begin a couple months after ACOTAR. Feyre is dealing with PTSD and depression, waking up every night from terrible nightmares that she's back in Amarantha's clutches. She's sad, lonely, and hardly doing anything but sleep and pretend to be happy. And the sad thing is that no one seems to notice this, or if they do, they don't say anything. Tamlin and Feyre are planning their wedding... well it's mostly Ianthe, a high priestess who's planning it, as Tamlin's always gone and Feyre has no clue what she's doing and has no motivation to do anything. When the wedding day comes around, Feyre realizes she doesn't want to get married, and Rhysand appears and says it's time to collect his bargain. And Feyre is honestly a little thankful for the timing.
When Feyre arrives at the Night Court, she's surprised. Things are much nicer than she expected them to be, and realizes that Rhys may actually be caring and have a heart. I'm pretty sure most everyone knows what happens, but I still don't want to say too much. I did love learning more about Rhys. His story is just so painful and it helps you understand his choices better. He really isn't the cold, heartless man he presents himself as. I just wanted to hug him and tell him that everything's alright.
Sometimes those big character changes can feel unnatural and contrived, however, the changes fit. After the traumatic events that happened, it's going to leave a lasting effect on everyone. And, as much as it hurt my heart, I ended up really happy in the end. It showed how you can't accurately judge someone when you know so little about them, and that looks can be deceiving. But it also shows how the people you are closest to aren't always the most aware of your mental and emotional state. Another thing that is addressed is that even if something is wrong, there are going to be people who don't do anything to stop it *cough* Lucien *cough*. I really hope he redeems himself.
The world building was incredible. Sarah J. Maas created a new, totally unique fae court that was absolutely beautiful. It was full of so many interesting places and people. I adored Mor, Azriel, Cassian, and Amren, and can't wait to see them again. Especially after that ending! I totally didn't expect any of that to happen and am both excited and nervous to see how things turn out.
Overall, this sequel was incredible; better than the first by far. It opens up a whole new world full of stunning places and great people. I think that if you didn't like ACOTAR you should still give ACOMAF a chance. Now I need to survive to read the third and final book!