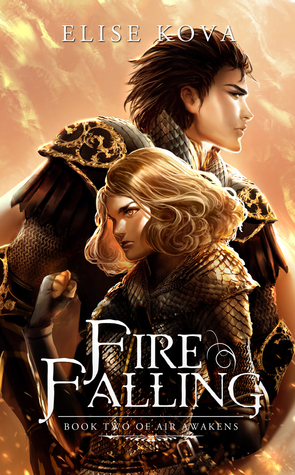 Title: "Fire Falling"
Series: Air Awakens #2
Author: Elise Kova
Website ~ Facebook ~ Twitter ~ Instagram ~Tumblr
Published: November 19, 2015
Publisher: Silver Wing Press
Genres: Young Adult, Fantasy, Romance
Pages: 378
Format: Paperback
Source: Bought
Goodreads ~ Amazon ~ Barnes & Noble
Soldier… Sorcerer… Savior… Who is Vhalla Yarl?



Vhalla Yarl marches to war as property of the Solaris Empire. The Emperor counts on her to bring victory, the Senate counts on her death, and the only thing Vhalla can count on is the fight of her life. As she grapples with the ghosts of her past, new challenges in the present threaten to shatter the remnants of her fragile sanity. Will she maintain her humanity? Or will she truly become the Empire's monster?



Fire Falling is the second book in the Air Awakens Series.
I was a big fan of the first book, so I had high expectations for the sequel. However, I just couldn't connect with it like I did the first one. It couldn't have been the length of time between reading the two books, as I've read sequels a year, sometimes longer, after reading the first book. I'm not sure if I was more disappointed by the characters or plot.
Fire Falling stars off a few days after the ending of Air Awakens. Vhalla is training to go to war and mourning the loss of her friend Sareem. I understand that she's sad, but the loss didn't connect with me. I feel like I needed to know more about him and have him play a bigger role in the book to be affected by his death. How can I mourn the death of a character I hardly know? Maybe we're supposed to feel sad because of Vhalla's sadness, but it could have been done more effectively. Vhalla is also dealing with the stress of being forced to join their army. It makes since that she's stressed and has resigned to her fate of being a weapon, but she's so... weak about it. She doesn't seem to even try.
The romance from Air Awakens continues. At first I liked it. A forbidden romance with a misunderstood crown prince? Sign me up! But now, the romance feels as though it's turned into an obsession. And it feels like it's one-sided. Vhalla has always been pretty open with her feelings towards Aldrik; However, Aldrik has not been the same and almost gets even worse. Most of the time Vhalla's thoughts rotate around Aldrik. Does he love her? Does he love someone else? Is he thinking about her? What are his past relationships/sexual encounters? About every other page she's thinking about him. She also views any female that's close to him to be competition. There are two female characters that she views as competition, and she starts to hate one of them for no reason just because she's close with Aldrik. It's like she can't live without him, and I hate those types of relationships.
The plot wasn't bad. It was interesting seeing them go to war and training (even if the training was pretty weak). The fights scenes were nice because you got to see the full extent of people's powers and see what they were capable of. However, those scenes that I really liked seemed to not happen often. It seemed like all of the stuff between the fight scenes and Aldrik scenes was just filler. I feel that if there was less emphasis on the romance, then the rest of the book could have been stronger.
We meet a few new characters and get to better know some introduced in the first book. It was nice to see people other than Aldrik, as there's more than just him in Vhalla's life. We get to better know Fritz, Larel, Daniel, and Craig. While the character building is not fully there yet, I'm hoping they become more real. I really liked Daniel; he's nice, open, and caring. It's obvious he cares for Vhalla, and I feel like they'd be a much better fit. But it's pretty obvious that they aren't going to happen. However, another character dies in this book, and while we're supposed to be sad, I didn't have that reaction. Just like with Sareem, the character could have been fleshed out more. The character seemed to only be there to make Vhalla feel better and to wipe away their tears, I think more could have been done to make them more dimensional.
Overall, this was a bit of a disappointment. I really enjoyed Air Awakens, so it hurts to be let down this much. I'm definitely going to be reading Earth's End, as I own it, and I'm sure I'll finish this series because so many people love it. However, it will not be high priority.