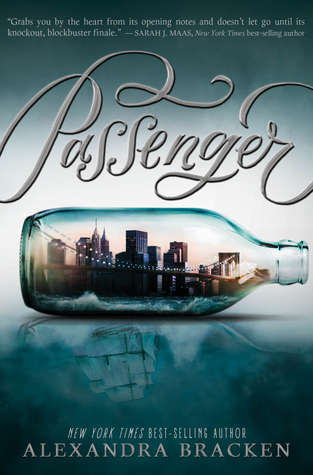 Title: "Passenger"
Series: Passenger, #1
Author: Alexandra Bracken
Website ~ Blog ~ Twitter ~ Instagram ~ Tumblr ~ Facebook ~ Pinterest
Published: January 5, 2016
Publisher: Disney-Hyperion
Genres: Young Adult, Time Travel, Adventure
Pages: 486
Format: Hardcover
Source: Bought
Goodreads ~ Amazon ~ Barnes & Noble
Passage, n.
i. A brief section of music composed of a series of notes and flourishes.
ii. A journey by water; a voyage.
iii. The transition from one place to another, across space and time.

In one devastating night, violin prodigy Etta Spencer loses everything she knows and loves. Thrust into an unfamiliar world by a stranger with a dangerous agenda, Etta is certain of only one thing: she has traveled not just miles but years from home. And she's inherited a legacy she knows nothing about from a family whose existence she's never heard of. Until now.

Nicholas Carter is content with his life at sea, free from the Ironwoods—a powerful family in the colonies—and the servitude he's known at their hands. But with the arrival of an unusual passenger on his ship comes the insistent pull of the past that he can't escape and the family that won't let him go so easily. Now the Ironwoods are searching for a stolen object of untold value, one they believe only Etta, Nicholas' passenger, can find. In order to protect her, he must ensure she brings it back to them—whether she wants to or not.

Together, Etta and Nicholas embark on a perilous journey across centuries and continents, piecing together clues left behind by the traveler who will do anything to keep the object out of the Ironwoods' grasp. But as they get closer to the truth of their search, and the deadly game the Ironwoods are playing, treacherous forces threaten to separate Etta not only from Nicholas but from her path home... forever.
In the months leading up to its release, I heard so many different opinions of Passenger. Some absolutely loved it, others just couldn't get into it. And this made me so nervous to read it. I had ordered a signed edition, and it sat on my bookshelf for months before I finally decided to read it. I wish I hadn't listened to everyone else's opinions so much because I ended up really liking it.
Etta has spent all of her life practicing violin, working towards her upcoming debut. But when one of the most important performances in her life goes awry, she finds herself in the cabin of an unknown ship that's in the middle of being attacked. Everyone sounds different, dresses different, and acts different. And she soon realizes that she's much farther from home than she thought. With the help of Nicholas, the young captain of the ship, she works to find her way back to her century to save everyone she loves.
I really enjoyed watching Etta and Nicholas's relationship grow. In the beginning, they were pretty much just putting up with each other because they needed the other to survive. However, as they got to know each other better, they started to really care about the other. They realized just how much these events have affected their lives. Etta gets to fully see how Nicholas's skin color affects his life. She knew how terrible things were for African-Americans in the 1700s, but she didn't truly comprehend to what extent, and that bothered her. She reacted to people's comments in a way that wasn't normal in that period. I thought that it was great that Alexandra Bracken included an interracial relationship, and, even though it was painful at times, was historically accurate with Nicholas's treatment being the son of a slave and slave master.
A lot of the book is Etta and Nicholas's journey through different centuries, which was really interesting. You get to see so many different places through different times. Some of these places I new little about, so it was great to experience them all, even if it was just for a chapter or two. It was also nice to see how Etta and Nicholas were perceived in each setting. It just showed how each place is different, regardless of year. It makes me wonder what places we might see in the sequel, and how different those settings may be.
However, one thing that I had trouble with was the explanation of time travel. It seemed like it could have been better described, as I didn't completely understand it for a good majority of the book. Maybe it was meant to be confusing, because then we'd be experiencing the confusion that Etta would be experiencing. But overall, I feel like it could have been better explained, and I'm hoping we get more information about it in Wayfarer.
Overall, this was one of the first time travel books I've read. I've read a few, but this one explored many issues along with the time traveling itself, mainly ethnicity. While I had trouble fully understanding the time traveling, I did really enjoy the story. I'm really interested in seeing which issues and settings may appear in the sequel. I also hope that we get more clarification with all the layers of time traveling.