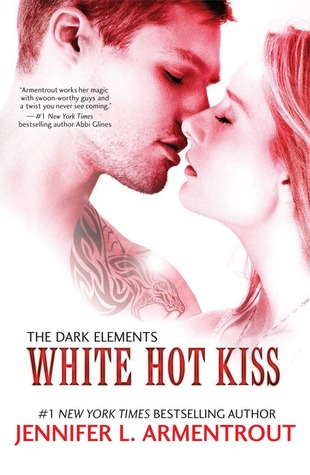 Title: "White Hot Kiss"
Series: The Dark Elements, #1
Author: Jennifer L. Armentrout
Website ~ Blog ~ Twitter ~ Facebook
Published: February 25, 2014
Publisher: Harlequin Teen
Genres: Young Adult, Paranormal, Romance
Pages: 388
Format: eBook
Source: Overdrive
Goodreads ~ Amazon ~ Barnes & Noble
One kiss could be the last.





Seventeen-year-old Layla just wants to be normal. But with a kiss that kills anything with a soul, she's anything but normal. Half demon, half gargoyle, Layla has abilities no one else possesses.





Raised among the Wardens—a race of gargoyles tasked with hunting demons and keeping humanity safe—Layla tries to fit in, but that means hiding her own dark side from those she loves the most. Especially Zayne, the swoon-worthy, incredibly gorgeous and completely off-limits Warden she's crushed on since forever.





Then she meets Roth—a tattooed, sinfully hot demon who claims to know all her secrets. Layla knows she should stay away, but she's not sure she wants to—especially when that whole no-kissing thing isn't an issue, considering Roth has no soul.





But when Layla discovers she's the reason for the violent demon uprising, trusting Roth could not only ruin her chances with Zayne… it could brand her a traitor to her family. Worse yet, it could become a one-way ticket to the end of the world.
Since the Lux series had been the only series I'd read by Jennifer L. Armentrout, I decided to try her new trilogy to see if I'd love it just as much as the other. And I loved it just as much!
Layla doesn't belong anywhere. She's half-demon and half-gargoyle, so she doesn't really fit in in the human, gargoyle, or demon world. She's one of a kind, meaning that she's going to have a pretty lonely life. She can easily steal the soul of a human or gargoyle, also known as a Warden (a protector of humans), so that means she'd only be safe with a demon. But being raised by a species that hunts them, the chances of that are incredibly slim. So all this means that her best friend, and crush, Zayne is 100% off-limits. And then she meets Roth, a demon who she's been able to connect with like no one else before. But will her relationship with Roth make her even more of an outcast than before?
Yes, like with most JLA books, the romance is a pretty big component of the plot. However, it wasn't a bad love triangle. Because even though Layla had feelings for two guys, it wasn't like they both reciprocated those feelings, and that was a nice change. Roth was attracted to her, and Zayne saw her as a sister, which is actually kind of sad. Fortunately the romance isn't the focus. After meeting Roth, Layla learns about an impending war and must learn how she can help stop it. And when she also finds out that she's the cause for a demon uprising, she realizes that she plays an important role in these events.
As I said before, I felt bad for Layla. She doesn't fit in anywhere. In the Warden world, she's an outcast. Most of them hate her or try to stay far away from her. She doesn't fit in in the human world, as she can't tell her human friends that she's part Warden part demon. So she can't really open up to anyone. She also doesn't really fit in with the demon world, as she was always told that they were terrible. But she does find out that maybe not all demons are horrible.
Roth is kind of the typical JLA bad boy love interest, similar to Daemon from the Lux series and Seth from the Covenant series. While he is quite similar to those two, he's still lovable, and I think I started liking him sooner than I did Daemon and Seth, especially Seth. Zayne is like a big brother to Layla, unfortunately for her. He's protective of Layla, as he's one of the only people that doesn't think she's terrible. However, I would get aggrevated with him because it seemed like he was aware that Layla liked him, but he sort of kept her hanging on. It's safe to say I preferred Roth.
Out of all of JLA's paranormal books, I think that this one may be the most unique. There are demons, which aren't a super unpopular type of paranormal creature, but I think they appear more in Adult paranormal romance. And there are also Wardens, which are people who can turn in gargoyles who protect humans and are supposed to be heavenly creatures. I'm really excited to learn more about all these creatures.
Overall, this was another great paranormal romance by JLA. It's obvious that this is her specialty, as each of her series is different from the previous. I can't wait to read the rest of this trilogy and see what craziness may happen next!